Transport gears up for holiday ride
( 2003-09-29 00:18) (China Daily)
With the seven-day National Day holiday just around the corner, various departments around the country have been busy preparing for the coming traffic flow.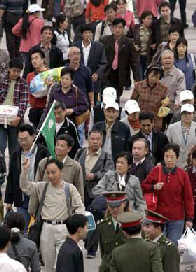 A Chinese guide holding a green flag leads a group of tourists outside the train station in Beijing, China, Monday, Sept. 29, 2003. With the annual National Day golden week holiday coming, millions of Chinese are expected to travel on already congested public transport system to get home or go on a tour. [AP Photo]
Civil air administrations have approved 2,700 extra flights during the holiday period, 14 per cent more than last year's increase.
The Ministry of Railways has also added more trains to cope with the crush of people buying train tickets during the "golden week."
The ministry predicts that a total of 35.5 million passengers will take trains between last Sunday (September 28) and October 7.
The peak traffic flow will be seen on October 1, with 3.85 million passengers expected hit the tracks.
Today is expected to be the peak day for passengers taking middle and long distance journeys, with an estimated flow of 1.05 million passengers, 25,000 more than last year flow on this day.
Beijing, one of the hottest destinations for tourists, has been preparing for tourists from all parts of the country.
According to the Beijing Holiday Tourism Management Team, Beijing Capital International Airport is prepared to handle over 700 flights every day.
The local railway bureau put an additional 33 temporary trains into operation yesterday evening for the duration of the holidays, and the Beijing Public Transportation Company plans to dispatch 10,300 buses every day.
It is expected that the local bus system will carry 87 million passengers from today to October 7, and over 13.5 million people will use the subway system during the same period.
As for boundary control points between the Chinese mainland and Hong Kong, measures have been drawn up to enhance the flow of visitors, increase the capacity of transportation facilities, and step up information dissemination to visitors, Hong Kong's Secretary for Security Ambrose Lee said yesterday.
To facilitate customs clearance, "expeditious immigration clearance'' procedures and new optical-character-recognition readers have been introduced at busier control points to increase handling capacity.
To inform tourists about important travel information, the Ministry of Public Security said it would release daily information in popular tourism areas from today to Oct 8 through major Chinese media.
The daily information will mainly include traffic and accident reports in 28 major scenic spots, major traffic accidents in 31 tourism cities, and other necessary information.