Microsoft's MSN to shut down
( 2003-09-24 11:28) (Agencies)
Microsoft Corp. announced on Wednesday it would shut down its Internet chat rooms in 28 countries, saying the forums had become a haven for peddlers of junk e-mail and sex predators.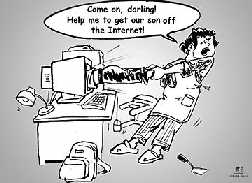 "The straightforward truth of the matter is free unmoderated chat isn't safe," said Geoff Sutton, European general manager of Microsoft MSN.
From October 14, the software giant will shut down its MSN chat services in Europe, the Middle East, Africa, Asia and much of Latin America, forcing millions of message board users to find alternative online forums to discuss the topics of the day.
In those regions, said Microsoft, the chat was free and unsupervised, giving rise to a nefarious element that bombarded users with "spam" mail, much of which was pornographic and, in some cases, allowing paedophiles to prey on children.
The decision has triggered a heated debate among free speech advocates, children's rights groups and Microsoft rivals about the proper way to police online forums, which predate the Web itself and have been critical to the Internet's growth as a mass medium.
NET'S "JOYFUL" DAYS IN DOUBT
In the United States, Canada and Japan, Microsoft will introduce an unsupervised chat service solely for subscribers, who are considered more accountable because their billing details and identities are on record with the company.
"It's a signal that some of the joyful early days of the Internet have moved on a bit. Chat was one of those things that was a bit hippyish. It was free and open. But a small minority have changed that for everyone. It's very sad," Sutton said.
Microsoft said it would begin alerting users to the changes later this week. Users in the affected regions will still be able to chat online but must do so through Microsoft Messenger, the company's instant messaging product.
"This is a decision based upon consumer experiences, child protection and our strategic investment to build up MSN Messenger," Sutton said. Microsoft competes with AOL Time Warner's Internet unit and Yahoo Inc. in the hotly contested instant messaging market.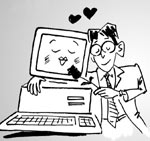 The US software giant has been putting more weight behind its messenger service, including plans to license it to business customers and integrate it more closely with its money-losing MSN Web service.
MIXED REACTION
Some applauded the move, saying other Internet companies should follow Microsoft's lead in pulling the plug on unsupervised, anonymous chat areas.
Proponents pointed to the highly publicised crackdown on online paedophilia rings as proof such measures are necessary.
"The rate and pace at which bad things are happening to kids because of the Internet has just stepped up in the past 12 months. You just can't ignore that," said John Carr, Internet advisor to the UK-based children's charity NCH.
But free speech advocates, industry rivals and even some children's rights groups questioned whether this would drive the darker elements of online chat underground.
"I think chat rooms function in the way a youth club functioned for us back in the '60s," said Terri Dowty, a policy advisor for watchdog group The Children's Rights Alliance for England.
"Naturally, children want to meet each other. They want support from each other. They want a discourse with one another. History shows that shutting things down just displaces the activities elsewhere, which is far more dangerous," she added.
Rivals, including AOL, Yahoo and British Internet service provider Freeserve, said the Microsoft move would not make them rethink their chat policies.
"Chat is one of the most popular tools on the Internet and it's not going to go away," a spokeswoman for Freeserve said.