Tiger eludes police posse for 60 hours
( 2003-09-24 01:23) (China Daily)
A wounded runaway Siberian tiger returned to its home in a park in Antu in Northeast China's Jilin Province early Tuesday after injuring a farmer and eluding police for about 60 hours.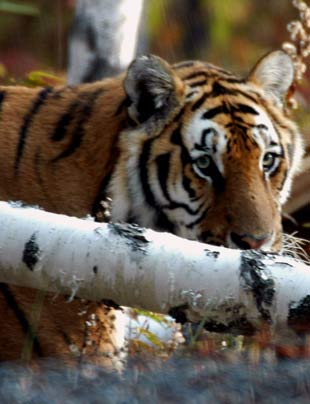 The runaway Siberian tiger
"The tiger came back around 3 am along the only road leading into the park,'' said Liu Yonglai, a senior official from the local forestry police office.
"It was obvious he was too hungry to stand any longer. He pounced on an ox we left as bait and ate it completely. This is just the ending we wanted.''
The big cat escaped from Changbai Mountain Siberian Tiger Park last Saturday afternoon and attacked farmer Jiang Fenbo, who was plucking pine nuts. Jiang remains in stable condition in hospital, according to Xinhua news agency.
More than 60 policemen joined the hunt for the tiger after the attack on Jiang, and the animal was wounded by a rifle shot before escaping into the mountains.
"We sustained no losses other than suffering from the chilly weather and terrible flocks of mosquitoes," Liu joked. The temperature dipped to below zero in the mountains and there was some light snowfall, he added.
After the tiger walked into the park through a large hole purposely cut in the fence, the police immediately sealed the hole with a forklift.
"The tiger is hurt in the foreleg, but the wound is slight and it is now under the care of the park experts," said Liu.The reason why the tiger attacked Jiang is still unclear, and the forestry police office declined to give any comments.
The park, a privately-run zoo, rented 12 tigers last year from Harbin, capital of Northeast China's Heilongjiang Province.
The attack on Jiang was the park's third tiger-related injury, according to Liu. Last November a workman was devoured when he tried to take a shortcut home. There was nothing left at the scene except several ribs and bloody clothes. In the second incident, a man's arm was bitten by a tiger, but Liu declined to give more details.