Canada opposition sets bill to defeat gay marriage
( 2003-09-19 09:26) (Agencies)
The opposition in the Canadian Parliament renewed its attack on gay marriage on Thursday with the introduction of legislation to cement a heterosexual-only definition of matrimony while allowing provinces to provide for same-sex civil unions.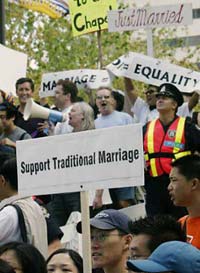 Pro-gay marriage proponents (back) try to shout down a demonstration of several hundred from religious groups protesting against gay marriage outside the British Columbia Supreme Court in Vancouver Aug. 16, 2003. [Reuters]

The move by the Canadian Alliance comes two days after its motion to reaffirm marriage as solely the union between a man and a woman was narrowly defeated in a deeply divided House of Commons.

The proposed new legislation -- framed by the Alliance as a compromise -- would run contrary to the Liberal government's plans to legalize same-sex marriage, but the Alliance believes the bill could succeed, given that more than 50 Liberals voted in support of their motion on Tuesday.

"Based on that vote, my conclusion is the Liberals do not have a majority to redefine marriage in this country," Alliance leader Stephen Harper told Reuters.

The issue has been a political hot potato since June, when an Ontario court overthrew the heterosexual-only definition of marriage as unconstitutional. Ottawa decided not to appeal the ruling and another by a British Columbia court, and drafted a bill allowing same-sex marriages across the country.

Justice Minister Martin Cauchon slammed the Alliance move as "a way to try to short-circuit the process that we've put in place."

The furor over gay marriage has promised to become a key issue in the election that is expected to be called next spring after Prime Minister Jean Chretien steps down in February.

Polls show the man likely to succeed him, former Finance Minister Paul Martin, should win another parliamentary majority, but Liberal legislators say the controversy could hurt them, particularly among older and rural voters.

Martin left the door open on Thursday to changing the government's draft bill, but he said he backed its approach.

"When you are dealing with profound social change, the kind that we're talking about here, I think Canadians are entitled to see that debate in Parliament and Canadians are entitled to participate in that debate themselves. There will be a lot of options put on the table at that time (and) we will have to see," Martin told reporters in Montreal.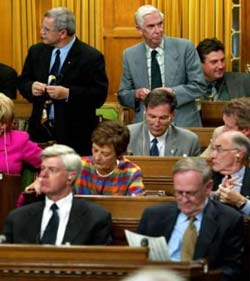 Liberal back bench MPs stand in the House of Commons and vote for a Canadian Alliance motion to define marriage, in Ottawa September 16, 2003. The motion to define marriage was defeated by a vote of 137-132. [Reuters]

At first blush, the Alliance's bill that was introduced on Thursday appears similar to the motion that was voted down, 137-132, on Tuesday night.

The core of the bill states: "Marriage is the lawful union of one man and one woman to the exclusion of all others."

But it also allows for gay civil unions to be recognized by the provinces, which the bill says have the constitutional jurisdiction to provide "appropriate legal recognition to relationships other than marriage."

Same-sex civil unions are legal in the U.S. state of Vermont, for example, though Martin ruled out anything that is not identical for heterosexuals and homosexuals.

Harper said it would be the first formally legislated definition of marriage by Parliament. Previous formulations have been in nonbinding motions or preambles to other laws.

Bills that are not introduced by the government have a much harder time passing, and Harper also recognized that Parliament might be adjourned as early as the Liberal leadership convention in mid-November.

"We may not have a vote before Parliament's out but this is telling the public what we would do if we were elected government," he said.