Call to avoid risks in real-estate sector
( 2003-09-19 06:49) (China Daily)
Tougher measures should be put in place to ward off risks in China's bullish real estate sector, a senior construction official said Thursday in Beijing.
"We should be on the alert because the sector has been on a fast track for a long time,'' Vice Minister of Construction Liu Zhifeng said at a press conference organized by the Information Office of the State Council.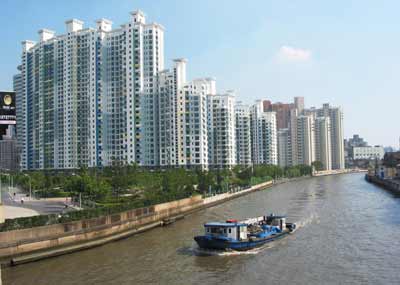 Liu ruled out so-called "bubbles'' which some industry insiders believe exist within China's real estate, even though investments in housing soared by 34.1 per cent on a year-to-year basis, notching up 469.8 billion yuan (US$56.9 billion) from January to July.
From 1998 to 2002, the average growth rate of investments in Chinese real estate was around 20 per cent.
The average living space of more than 50 per cent of urban residents is below the average per capita amount recorded in 2002, 22-square metres of space.
"We need a relatively long period of fast development in real estate, which is regarded as a main engine in China's economy,'' said Liu.
The government's housing supply is not as balanced because common commercial apartments are not available in large enough numbers, while there is an oversupply of luxury apartments and high-end villas.
He said his ministry, along with the National Development and Reform Commission, plans to release a document that will put stricter requirements in place for those people who want to buy low-end housing, which has been built specifically for low-income earners.
In Shanghai yesterday, real estate experts said China's real estate market is still showing a booming tendency with great potential.
Yang Shen, chairman of the China Real Estate Association, said that Chinese demand for housing will be about 12 billion square metres of space within the next two decades.
That would bring the current average living space up from about 20 square metres to 35 square metres.
"The figure means China will rank at the top among developing countries in terms of housing conditions by then,'' Yang told the real estate forum launched by Stanley & Partners Investment Management Co Ltd.
Real estate developers from Shanghai, Hong Kong, Singapore and Taiwan discussed the Shanghai real estate market at the two-day forum.