High-speed rail from Shanghai to Beijing reconsidered
( 2003-09-18 08:52) (China Daily)
A panel of experts is being organized to conduct a new round of feasibility studies for the proposed Beijing-Shanghai high-speed railway project, sources from the Ministry of Railways said Wednesday.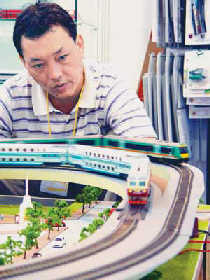 A man studies an urban rail system model at an exhibition in Shanghai. China's urban rail systems will stretch to 2,000 kilometres in 2050 and be capable of accommodating 50 to 80 per cent of public transport commuters. [newsphoto.com.cn]
The sources, who refused to be identified, said the railway project would be evaluated on a scientific basis. They refused to give any details about how their review would be conducted.
Earlier this month, Ministry of Railways officials invited experts to study the project's potential. It would be the biggest effort since the Three Gorges Project in China, but the study failed to take into account what kinds of technology it would use - Maglev or orbit.
That has been the focus of ongoing arguments about the feasibility of the project.
As Germany, France and Japan began to compete for bidding on the railway, arguments about the design have become increasingly heated.
A member of Chinese Academy of Engineering said on Tuesday that the country's high-speed railways should be given high priority, according to Xinhua News Agency.
The expert, who preferred to remain anonymous, made the statement at an annual academic conference sponsored by Chinese Association of Science.
He is believed to have participated in the previous feasibility study for the Beijing-Shanghai high-speed railway project.
He said that the feasibility study should be cautious and prudent and nothing would influence the evaluation and decision-making on the project.
The 1,300-kilometre Beijing-Shanghai high-speed railway will reportedly cost US$23 billion. When completed, it will take only five hours for passengers to travel from the country's capital to the country's major coastal commercial hub.
The project was first proposed in 1997 and was later listed in China's 10th Five-Year Plan (2001-05).
As the evaluation of Beijing-Shanghai high-speed railway project is still under way, a plan to accelerate train speeds on major trunk lines is being prepared. Sources from Ministry of Railways said that the fifth speed acceleration project - which would allow trains to reach maximum speeds of up to 200 kilometres per hour - is expected to be implemented next year.