Relocated residents face some home truths
( 2003-09-17 11:49) (China Daily HK Edition)
On August 22, Weng Biao doused himself with 20 litres of gasoline, which he bought on his way to the local resident relocation bureau in the city of Nanjing, Jiangsu Province. There he got into a heated argument with the office personnel and threatened to set himself on fire. Security guards tried to restrain him, but in the scuffle his lighter was somehow ignited. Both Weng and a guard were seriously burned. Weng died 15 days after the incident.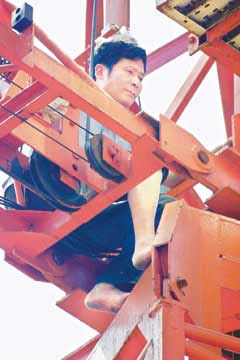 Sun Xuecheng sits on the top of a crane at a construction site in Nanjing, threatening to jump as his former neighbours try to calm him down.
Though widely reported by the media as a "self-immolation protest", the incident was far more complicated. Was it a suicide attempt gone awry, an act of arson or just an accident? Whatever the answer, there is no doubt about what led to the tragedy.
Dengfu Lane in Nanjing's Xuanwu District was being demolished to make way for shining new buildings. August 30 was to have been the deadline for all relocations, and residents from more than 1,000 households had already been moved elsewhere. But about 10 families refused to leave, and the Wengs were one of them.
The family of four, including Weng's wife, his 74-year-old father and 11-year-old son, shared a 20-square-metre shack. Local compensation rules set its value at 3,370 yuan (US$407) per metre, but market prices at this downtown location are much higher, at around 7,000 yuan (US$850) per square metre for new homes and 5,000 yuan (US$600) for existing ones.
The Wengs asked for a lump sum of 100,000 yuan (US$12,080) or a 65-square-metre flat elsewhere. "You must be kidding," a relocation officer told them. The bureau then had their power and water services cut, but the family endured temperatures of 40 degrees Celsius, still refusing to budge. The bureau employed various techniques of persuasion and pressure, mainly pressure, by sending over thugs to break windows and scatter debris around their home. Then, on the fatal day, they tore down the shack and dragged the family out, burying the Wengs' possessions beneath the wreckage.
Weng, however, was not alone in his defiance. Chen Wulang, one of his neighbours, temporarily saved his home by literally slashing one of his wrists and staring down the bulldozers. Nationwide, similar incidents, resulting in 26 deaths and 16 injuries, occurred from January to July 2002 as revealed by the Ministry of Construction. Of all the letters of complaint the ministry received during the same period, 28 per cent involved demolition and relocation issues, while 70 per cent of all individual in-person visits and 84 per cent of group visits to the ministry were made to lodge complaints.
One of the best-known lawsuits of this nature, which took place in February 2000, involved plaintiffs from 10,357 families, all of whose homes were to be torn down.
Price of urban renewal
Behind the bulldozers, cranes and fast-rising tower blocks in China's metropolises resides a special class of citizens. Most live a hand-to-mouth existence, and for one reason or another they tend to inhabit the more central sections of a city, prime land for redevelopment. In other words, they are the urban poor who happen to be sitting on a pot of gold.
Urban regeneration is nothing new. Local governments used to take care of everything, including assigning new homes for the displaced. But as the pace picked up in the 1990s, the government could no longer afford to take on all the work alone. So it began contracting real-estate developers to do the job and limited its own duties to setting the rate for compensation.
The compensation seems quite generous at first glance. Usually, it is calculated by the square-metre area of a constructed building, which is greater than the actual livable space, and a premium is added on top of that. The rate varies from city to city and district to district. For example, one city used to add 25 square metres to the measured area of each house on the demolition list.
But this glosses over the fact that most of these areas are shanty towns full of tiny, cramped houses. Three generations often squeeze into a single room. When these families leave, few of them can afford to buy a new flat in the same area. They are typically allocated bigger places in outlying districts. But some of the families inhabited such undersized units, or part of their old homes were erected without city permission and hence not included in the compensation amount, that many receive negligible reimbursement, barely enough for a decent place in even the far-flung suburbs.
When the city mentioned above changed the premium from 25 extra square metres to 1.7 times the house's original size, it sounded like a step up but, in fact, for most of the displaced homes it was a big reduction. Then one year later, the city cancelled the premiums altogether.
For the developer who wins the bid for the project, the deal is usually bitter-sweet. On the plus side, he can replace the old hodgepodge neighbourhood with skyscrapers, thus creating acres of high-priced office or residential space. One survey pegs the return for investment for this kind of project at a maximum of 150 per cent. At the same time, the developer has to shell out cash in advance to these families or put them up in rented or purchased apartments.
In general, the return is still not as attractive as other real-estate projects that do not involve relocating thousands of households. According to developers, the greatest irritation is those few families, like the Wengs, that always refuse to take the bait. Developers call them "snag families" because they hit a snag whenever they try to vacate them.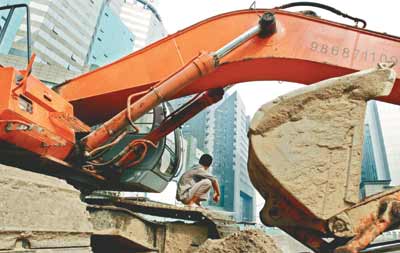 A man takes a break on an excavator at a construction site in Beijing.[Reuters]

Power triangle
In the triangular power struggle, the displaced are at a disadvantage because the government almost always takes the side of the developer.
Most cities have local laws that govern compensation and the resolution of disagreements, but legal experts say these laws are skewed towards developers. In the Weng case, the rate of compensation had not been upgraded since 1998, but square metre prices in the Xuanwu District had risen by at least 1,000 yuan (US$120) in the last two years. The Wengs basically asked for the current rate for existing homes in that area - 5,000 yuan (US$600) per square metre.
The government has its own arguments. First of all, all land in China belongs to the State. When anyone buys a home in China, the purchase includes the structure as well as the right to use the land on which it sits, usually for 70 years. Clearly, in the case of the homes of the displaced, the land is the real treasure. The buildings would often be worthless as scrap. As for the convenient downtown location, the argument goes, the government's investment in the infrastructure made the value appreciation possible. In other words, the Wengs were being unreasonable in their request for a replacement home more than three times the size of what they had and presumably in much better condition.
When the displaced and the developer, or the government that awarded the project, fail to reach agreement over compensation, the case can be handled, either through administrative or legal channels. Nevertheless, the judgment is made by an agency related to the relocation office or someone hired by it. And some local courts flatly reject such cases. Whatever the situation, one thing is certain: the houses can be torn down before a verdict is reached.
Gao Zhicheng, a Beijing-based lawyer, deemed it ludicrous that such a decision is often made by one side in the dispute. "And even if the verdict is wrong, the house is gone anyway," he said.
Gao added that China's Constitution stipulates in unequivocal terms that citizens' houses are protected and should not be violated by unlawful searches or trespassing. The penal code proclaims it a crime to "forcibly enter a citizen's abode and relocate his belongings elsewhere, or otherwise leave him homeless", said Gao.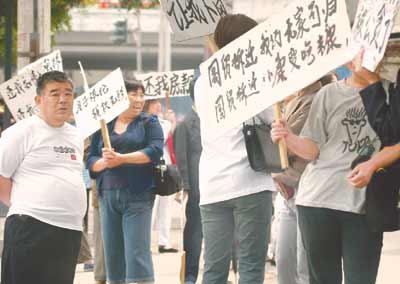 Protesters hold various placards condemning the housing developer, on a street beside China World Trade Centre in Beijing on June 11. There have been sporadic protests across the country, urging stronger legal supervision on demolition and relocation issues.
A better tomorrow
Over the past 13 years in southern China's Guangdong Province, tens of thousands of families have been lured out of their dilapidated homes by developers on the promise that they can move back once construction of new, taller buildings is completed. But developers overreached themselves and ran out of financial resources, leaving the displaced in a limbo of temporary rented housing.
There are 123 such evacuated areas in the city now lying dormant and 57 unfinished buildings. Many of the displaced are elderly residents who make weekly pilgrimages to the sites of their old homes. "It has been eight years now. I don't know whether I'll live long enough to see the day I can return," said 80-year-old Zhong. Worse yet, the developer has long stopped paying his rent.
Fortunately, the local government is taking action. In addition to pledging to get rid of all the half-baked projects in three to five years, it has passed a new regulation making it legal for the government to take back plots of land if they remain undeveloped or unfinished for two years. In the meantime, authorities are exerting pressure on developers to keep paying the temporary relocation allowances to the displaced.
To prevent future redevelopment projects from coming to a halt, the Guangzhou government has raised the barrier to entering the market: any company responsible for relocating residents must put aside 50 per cent of all compensation funds before a single brick can be removed. For those families who opt for cash compensation, the company has to pay them in full and in advance.
The new regulation also specifies that "market prices" be used to calculate compensation rather than "replacement prices", and a premium of 20 per cent must also be added. For those poorest of tenants, who may still be left homeless, the city will set a "minimum protection line" as a welfare policy.
The new regulation includes a special clause that forbids demolition firms from stopping water, electricity or road access before residents have completely moved out. The city is also putting forward a new proposal to ban razing activities when a dispute is not yet resolved. "We are designing a new platform where all sides in a dispute can communicate on an equal footing," said Li Li, a municipal legislator.
"It would be naive for the displaced to pin their hopes on the goodwill of the developer," said Xie Lizhong, a sociology professor at Peking University. A stronger legal foundation is needed to build a modern mansion, he adds.
Dai Yongning, deputy mayor of Nanjing, has announced a slowdown of the pace of demolition. He added that "old regulations" are under scrutiny. Also, 400,000 square metres of affordable housing will be built in the city to accommodate the displaced.