Diplomat's rich life revealed
( 2003-09-17 09:34) (China Daily)
After a whole year of preparation, a photo album illustrating the colourful life of Huang Hua, a famous Chinese diplomat, just rolled off the press.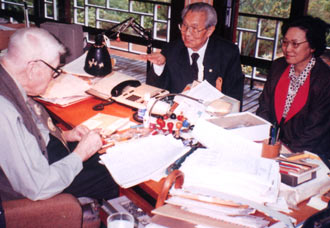 In April 1985, Huang Hua and his wife He Liliang paying a call on Dr Joseph Needham, a famous British Sinologist and author of the great work "Science and Civilization in China,'' at Cambridge, England.

Last week, the five organizations co-sponsoring the album, the China Welfare Institute, the Soong Ching Ling Foundation, the Association for International Friendly Contact, the China Society for People's Friendship Studies and the Great Wall Society of China, jointly hosted a buffet party to celebrate the the album's publication.

Born in 1913, Huang has led a varied diplomatic life. He started as a liaison officer for the Communist Party of China. After the People's Republic of China was founded, he joined the foreign service, rising to become an ambassador, the Chinese representative to the United Nations, foreign minister and vice-chairman of the Standing Committee of the National People's Congress.

Now at the age of 90, Huang is enjoying a rather quiet life. But very often he and his wife He Liliang, who is also a seasoned diplomat, would recall the historic moments in which Huang has been involved.

The photos collected in the album not only document a revolutionary and statesman's personal story, but reflect his country's history and politics.

Huang's special position and obliging personality have won him friends all over the world.

"At first we only had around 100 pictures," recalled He. "But many friends searched through their private collections and supplied us with about 200 more. We later obtained another 100 photos from the Xinhua News Agency."

Young revolutionary

The album traces Huang's earlier career from 1935, a turbulent time characterized by the Kuomintang's concession to Japan's intention of colonizing North China, and the outraged Beijing students' December 9th Movement.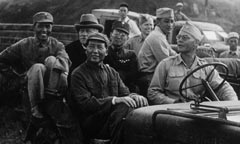 Mao Zedong meeting General Zhang Zhizhong (third on the left in the back row), Chiang Kai-shek's representative, and Patrick Hurley (second on the left in the back row), US Ambassador to China, on August 27, 1945. Zhang and Hurley arrived in Yan'an to accompany Mao Zedong to Chongqing for negotiations between the Communist Party and the Chiang-led Kuomintang. Huang Hua (first on the left) also took part.

As a student leader at Yenching (Yanjing) University, Huang and other comrades organized a student assembly at the eve of the December 9th Movement, calling on Yenching students to take part in the student demonstration called by the Communist Party.

Besides several old photos conveying the tension and conflict of that time, the album also shows an interesting historical document: a roster recording information on some special prisoners. On March 31, 1936, Huang and some other students were arrested by police while holding a demonstration in commemoration of a student who died in prison. The roster was clearly and formally written by a police clerk.

In June 1936, Edgar Snow, who was then a lecturer in the Department of Journalism at Yenching University, learned from Madame Soong Ching Ling that Communist Party Chairman Mao Zedong invited him to Bao'an in Northwest China's Shaanxi Province, where the Red Army was temporarily headquartered.

Before he left, Snow asked Huang, one of the several young students often spending time with him, if he would like to go with him and serve as his interpreter.

"Well, that's exactly what Huang had been dreaming of for a long time," said He.

Snow left immediately, while Huang, who was already a secret member of the Communist Party, delayed his departure for 12 days, waiting for permission from the organization.

Huang accompanied Snow throughout his more than three month visit to Yan'an. Each night Snow would sit in front of his typewriter, writing down everything he saw during the day. Those were the raw materials for his eye-opening "Red Star over China."

According to He, each time when Snow wrote something concerning Communist Party's policy, he would ask Huang to translate this into Chinese, and then had it sent to Mao to check.

Because it was likely for Huang to be sent to Kuomintang-controlled area to work, Snow promised not to mention his name in the book, and not to take his picture.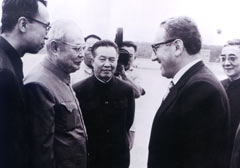 On July 9, 1971, Henry Kissinger, the then National Security Adviser to the US president, arrived in Beijing on his secret but historic visit to China. Senior Chinese leader Yan Jianying (second on the left) met Dr Kissinger at Nanyuan Airport, with Huang Hua (third on the left) and other Chinese Foreign Ministry officials.

Now the only photo recording this precious experience of Huang is one shot by a Red Army cadre which shows Snow interviewing Xu Teli, an old Red Army leader, with Huang sitting between them translating.

Snow was the first Western journalist to provide his readers with a first-hand knowledge about the Party's struggle.

Many other Western journalists had to wait until June 1944, when under both domestic and overseas pressure, the Kuomintang had to permit a delegation of Chinese and foreign journalists to visit the revolutionary base of Yan'an in Shaanxi Province.

Immediately after the visit, a US military observers group, led by Colonel David D. Barrett, arrived at Yan'an to evaluate the Eighth Route Army's capability in fighting the Japanese. It was nicknamed the "Dixie Mission."

Huang, who was then the political secretary of Zhu De, the commander-in-chief of the Eighth Route Army, served as the liaison officer on both occasions.

Some photos of this period feature the Communist Party leaders, such as Mao Zedong, Zhou Enlai and Zhu De, engaging in earnest and friendly discussions with foreign journalists or military observers, with Huang serving as the interpreter.

In those pictures, Huang, who had previously been dressed in a long gown - typical of Chinese intellectuals just 10 years before - now wore a quilted jacket and quilted, small-legged pants. All the top leaders and ordinary Red Army soldiers were dressed in the same rough, humble clothes as him in the photos.

New mission

When the People's Republic of China was founded in 1949, developing friendly relations with other countries was one of its priorities. The Five Principles of Peaceful Co-existence initiated by the then Premier and Foreign Minister Zhou Enlai won China a good standing in the international arena.

Taking up the new job as one of the first-generation diplomats of the People's Republic of China, Huang accompanied Zhou to some of the significant diplomatic events in the 1950s, such as the Geneva Conference discussing the Korean issue and Indo-China issue in 1954, and the Asian-African Conference (also known as the Bandung Conference) in 1955.

In 1960, Huang was appointed as China's first ambassador to the Republic of Ghana. In 1966, he was transferred to Egypt to resume the office of ambassador there.

After the "cultural revolution" (1966-76) broke out, from 1967 to 1969, for three years Huang was the only Chinese ambassador abroad. When the Ministry of Foreign Affairs wanted to summon him back as with other ambassadors to take part in the domestic "revolution," Zhou Enlai reportedly said, "No, we have to have at least one pawn abroad."

During his Africa years, Huang showed China's sympathy to the African people's independence movement, making many friends for China.

The album also presents a photo of an unusual souvenir: an exquisite silver plate on which were engraved the names of 51 foreign diplomatic envoys then serving at Egypt. In July 1969, knowing that Huang was to leave his office in Egypt, these foreign envoys had this plate made, in order to remember their friendship with Huang.

The early 1970s marked a turning point in Sino-US relations. In July 1971, Henry Kissinger, the then National Security Assistant to the US President, made a secret visit to China, which was followed by the issue of a joint announcement on July 15, 1971. The event marked a thaw in the two countries' bilateral relationship.

"Chairman Mao had learnt that Kissinger's plan was to 'disappear' from his visit in Pakistan. So he asked Huang, 'Well, how about we let you disappear too," recalled He. "So Huang 'disappeared' at once: for four months nobody knew where he was. But he was actually in the Diaoyutai State Guesthouse, preparing for the visit."

Several days after Kissinger's visit, Huang was sent to Canada to be the first Chinese ambassador to the country. The embassy was the first one China opened in North America.

Three months later, on October 25, 1971, by an overwhelming majority, the UN General Assembly passed a resolution to restore China's UN representation. Huang was chosen as the first permanent representative of China to the UN and its Security Council.

When he said goodbye to Canadian Premier Pierre Trudeau, Huang expressed his apology that he had only served there for a short time. But Trudeau smiled and was quoted as saying, "No, it's our nation's honour that China's first permanent representative to the UN is being transferred from our country."

UN conferences are occasions for multilateral diplomacy. "Unlike the engagement of an ambassador, which deals mainly with bilateral relationships, the job in the UN asks you to be more adept in diplomatic tactics, and have a more profound understanding of the international situation," said He, who accompanied Huang to all his postings abroad as ambassador or as representative to the UN.

"And you can meet an assortment of personalities there, from premiers to the leaders of non-government organizations," He recalled. "It's a challenge to your social finesse, and its very interesting too."

In December 1976, when the "cultural revolution" ended, Huang was appointed as the Chinese foreign minister. Deng Xiaoping, who led China's drive to reform and open to the outside world, attached great importance to China's diplomatic work.

In his six-year tenure as Foreign Minister, Huang achieved several important breakthroughs in China's diplomatic work, such as the Treaty of Peace and Friendship signed by China and Japan on August 12, 1978, and China's establishment of official diplomatic relations with the United States.

The album collects a lot of photos of his activities in this period.

Today, long retired from active public service, Huang, in addition to reading newspapers, surfs the Internet every day to keep in touch with his old friends around the world and follow the international situation.

"He has never really quit from his task of building bridges of friendship between the people of China and foreign countries," He said.