Army transfer on DPRK border not mass build-up
( 2003-09-17 07:20) (China Daily)
China yesterday rejected reports that its troops were building up on its border with Democratic People's Republic of Korea (DPRK).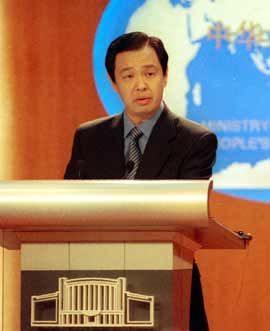 Kong Quan

The army's movement was part of a longstanding plan to unify border controls nationwide , Foreign Ministry spokesman Kong Quan said.

"Chinese troops have not massed on the Sino-DPRK border,'' he said at a regular briefing yesterday.

Overseas media had reported that China had stationed 150,000 troops on the Sino-DPRK border since last month to deter an escalation of the nuclear standoff on the Korean Peninsula.

Kong said the People's Liberation Army (PLA) had taken over guard duties along the border with the DPRK from the armed police. He said it had been decided years ago to turn over the job to the PLA's border guard unit to bring it into line with other parts of China's land border.

He said the PLA was also taking over guard duties from the armed police along the border between Myanmar and Southwest China's Yunnan Province.

The changes were "based on requirements of the law of the People's Republic of China to unify the form and streamline the system of national land border administration,'' he said. "It is a normal adjustment that has been carried out after many years of preparation by the relevant parties.''

The situation in the DPRK has become increasingly sensitive since last October, when US officials said Pyongyang had admitted running a covert atomic arms programme.

China hosted six-party talks last month to try to defuse the nuclear stand-off.

China, the DPRK, the United States, the Republic of Korea, Russia and Japan agreed on some issues. They maintained there should be a nuclear weapons-free Korean Peninsula and that the DPRK's security and other concerns should also be addressed.

Kong then turned to another report that claimed Pakistan is home to a terrorists' training camp which assists East Turkistan terrorist organizations. He said the Pakistani Government has done much to fight religious extremists and terrorism in recent years and has also taken an active part in international counter-terrorism.

"China has received lots of help and assistance from Pakistan in fighting the 'three forces' (terrorism, separatism and extremism) to safeguard territory and sovereignty,'' Kong said. "China is satisfied with that and will continue its co-operation with Pakistan.''

In another development, Chinese Ambassador to the United Nations Wang Guangya spoke at the United Nations Security Council chamber on the Israeli-Palestinean conflict on Monday local time. He said China opposed continued violence, targetted killings and Israel's decision to expel Arafat, who he described as a "duly elected'' leader of the Palestinian people.

Wang asked Israel to exercise caution to prevent further deterioration of the situation.