Farmer sets self on fire at Tian'anmen Square
( 2003-09-15 14:43) (Xinhua)
A Chinese farmer, who attempted to burn himself at about 8:40 a.m. Monday at the Tian'anmen Square in downtown Beijing, was slightly hurt and has been hospitalized, police said.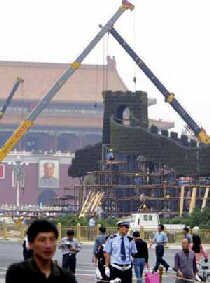 A Chinese policeman stands guard in Beijing's Tiananmen Square as workers prepare for October 1 National Day, September 15, 2003. A farmer sets himself on fire at the Square on Monday to protest a local government decision to relocate his family. [Reuters]
Zhu Zhengliang, 45, a native of Qingyang County of east China's Anhui Province, ignited the gasoline he had poured over his body before the Jinshui Bridge, which is in front of the Tian'anmen Rostrum. Zhu got slight burns on his back and arms.
Preliminary investigations show that Zhu and his wife came to Beijing by train on Sunday. The reason that he attempted to burn himself at the square was that he was not satisfied with the local government's decision to relocate his family to another place, the police said.
Zhu and his wife arrived at the Tian'anmen Square early Monday morning. Zhu's wife was sitting beside him when he set himself on fire, said one policeman, who was on duty with his comrades-in- arms nearby and stopped Zhu immediately after they caught sight of the farmer's suicidal action.
The Tian'anmen Square now remains calm and in good order, and tourists are seen having pictures taken at the site of the incident, with the Tian'anmen Rostrum as backdrop.