Precious chances for investments
( 2003-09-14 07:56) (China Business Weekly)
Beijing international high-tech expo, involving billions of dollars worth of projects, will attract overseas money and help boost development of Beijing and China's high-tech industries.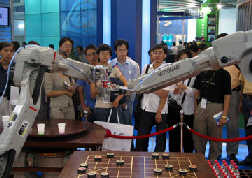 Spectators watch a robot performance put on by the Shougang Motoman Robot Co Ltd at the China International Exhibition Centre on September 12 during the sixth China Beijing International High-tech Expo. [newsphoto.com.cn]
Enterprises from around the world will have huge business opportunities during the expo, from September 12 to 15, Lu Hao, Beijing's vice-mayor, told China Business Weekly.
Beijing, co-host of the Sixth China Beijing High-Tech Expo, will use the event to enhance its industrial structure, Lu added.
"This is the first time the municipal government has put forward so many huge projects, involving such huge investments, all at once," Lu said.
Sources said the municipal government will present 325 projects, worth about US$16 billion, during the exposition.
Twenty-five of the projects will involve infrastructure construction - including Beijing's No 4 subway line, the second phase of the city's expressway to Chengde, the Beiyuan sewage treatment plant and energy and water supply centres for the Tongzhou Industrial Development Zone.
About US$4.9 billion in funding is needed for these projects.
"Domestic and foreign investors are welcome. There is some flexibility in how they introduce capital," Lu said.
Several other key projects - from the manufacturing, high-tech agriculture, real estate and tourism sectors - will be highlighted during the expo.
"As a national event, the exposition will also concentrate on creating exchanges and co-operation opportunities for other provinces, municipalities and autonomous regions," Lu said.
"The organizing committee will provide more considerable and efficient services for them."
More than 10,000 projects - involving science and technology, financial assets and economic and trade co-operation - from across China will be promoted during the expo.
The event marks the first time Beijing has invited foreign and non-government investors to participate in the reorganization of its State-owned enterprises (SOEs) and related mergers and acquisitions.
Some 104 of Beijing's SOEs will be introduced to investors during the expo.
"Foreign and non-government investors have shown great interest in those SOEs, since we made the announcement in July," Lu said.
Officials with the Beijing Economic Committee, sponsor of the event, said the SOEs' combined assets are worth 25.2 billion yuan (US$3.04 billion).
The SOEs are in the textile and garment, pharmaceutical, building materials, electronics and machinery sectors.
The SOEs' operations are sound, but they need capital, technical and/or managerial support to expand their businesses, upgrade their technologies and/or improve management, Lu said.
"Many are negotiating with possible investors, and the exposition is an opportunity for them to provide more detailed and exact information ... to the investors," Lu said.
"Enterprises and the investors are cautious, which is necessary and responsible."
The negotiations, and preparation of detailed agreements, will take some time, Lu added.
To guarantee the expo's success and smooth operation, the municipal government will issue three regulations regarding valuation of assets, staff allocation and credit and debt management.
The government must "standardize" business operations, which will protect the SOEs and investors, Lu said.
Beijing led by its high-tech industry, supported by its manufacturing sector and followed by overall development of its service industries has a sound blueprint for development.
"Due to Beijing's distinct advantages in technology, talent and information, its high-tech industry has grown quickly," Lu said.
Statistics indicate the industrial production added value of Beijing's high-tech sector last year reached 25.16 billion yuan (US$3.03 billion), or 28.9 per cent of Beijing's combined industrial production added value.
Due to the city's relatively advanced financial services and cultural atmosphere, Beijing is an "attractive" place for technology-intensive firms.
Lu, 35, the youngest vice-mayor in Beijing's history, is regarded as an economic and industrial czar, with rich theoretical knowledge and work experiences.
Lu, who graduated from the Economy Institute of Peking University, had been a factory director in a State-owned enterprise before being named a director of the administrative committee of Beijing Zhongguancun Science Park, one of China's high-tech zones.
Now, as a vice-mayor, he is in charge of Beijing's economy and industries.
The China Beijing High-Tech Expo, first held in 1998, is considered a big-brand exposition, and Beijing's high-tech industry has become its main attraction.
"When I was in Zhongguancun, I thought the exposition was a great event for us to discover opportunities, boost co-operation and explore new ideas," Lu said.
"Now, I also believe it can be a large platform ... for high-tech and related operators, not only in Beijing, but also around China."