Art gala debuts in Beijing
( 2003-09-12 11:10) (China Daily)
It is really strange that the scope of arts of the Beijing Biennale is limited only to painting and sculpture," said Zhan Wang, 41, a Chinese artist.

A boy stands before two oil paintings at the newly-reopened China National Museum of Art in Beijing. The museum will be one of the two major venues for the upcoming Beijing International Biennale. [Reuters]
"Every biennale among the 100 or so launched around the world highlights contemporary art. The concept of a biennale is equivalent to contemporary art."
The artist's cutting comments reveal that not everyone is excited about the upcoming series of events as the organizers are. That they are heartfelt is clear - Zhan makes them despite the fact that he has been invited to take part.
Although welcoming the launch of such a concept in Beijing, many artists like Zhan lament the fact that the Beijing Biennale is restricted only to painting and sculpture, ignoring other vibrant forms of contemporary art like video, multi-media and performance.
According to the event's organizer, the Chinese Artists Association, Beijing International Biennale 2003 - a new art expo to be held biannually running this year from September 20 to October 20 - is a platform for communication among artists.
So long as it is a platform for dialogue, there are bound to be critical comments as well as acclaim.
Yet such comments seem too harsh to Tao Qin, general secretary of the organizing committee of the Beijing Biennale. She actually welcomes the limitation to categories: "There are over 100 biennales around the globe. We hope that Beijing Biennale can stand out as fresh and unique, by stressing the importance of painting and sculpture." Tao, 40, a postgraduate in art history, added: "Because all other biennales focus too much on new forms of contemporary arts, we want to be different from them, and form our own characteristics."
Artists like Zhan regard this as "ridiculous."
"If you call this event a biennale, you should follow the international rule - the definition of a biennale is that it is the key stage for contemporary art," Zhan said. "Otherwise, it is much better to call this event an 'International Art Expo'. It is not really a biennale."
Added Zhan: "The characteristics of biennales lie, not in the form of the event, but in the artists' works displayed in the event."
The originality lies in the artist works, which reveal their special angles of vision and independent thoughts, Zhan said.
Many countries now stage such events since they were first appeared over a hundred years ago in Venice. They have been regarded as a way to promote and inspire new contemporary art.
Zhan insists a real biennale should "reflect contemporary culture...and exist opposite to that of traditional, conventional art." It should, he says, be an art system that is contrary to the academic and official.
Artists like Zhan believe the Beijing Biennale could be a lot better if organizers had a clearer concept, distinguishing contemporary arts from traditional arts.
Curators like Tao believe otherwise: "Traditional forms of art, if with new, comprehensive materials added and applied, and themes being enlarged and varied, could reflect contemporary life and culture."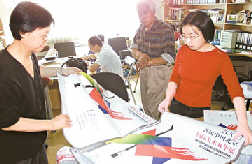 Staff of the China Artists' Association prepare for the Beijing Biennale. [newsphoto.com.cn]
Tao pointed out that some small-scale installations are being accepted at the expo as an art that overlaps to some extent with sculpture.
"In the future, we will add in some works of video, multi-media and performance, into the Beijing Biennale," she conceded.
The government has poured 7 million yuan (US$843,373) into the Beijing Biennale 2003, revealing its firm support of the event, Tao said.
At the event's theme exhibitions, there are some 600 works of art by over 250 international artists from 40 countries. They are supplemented by 150 Chinese artists. Works will be displayed in the China National Art Museum and China Millennium Monument Art Museum.
The theme of this first biennale - Originality: Contemporary and Locality has been decided by a group of 30 curators. Artist Zhan pointed out that all of these people have different ideas.
"The theme is not a statement of an idea about contemporary art, it only sets a scope, a category," he said.
Of the big number of curators, Zhan said: "It is odd that there are so many curators for the event, as in general each biennale only hires one or two curators to set the theme and produce the exhibitions."
Hiring so many curators is not a good idea, since decisions must then effectively be taken by committee, Zhan said.
"The group of curators would be better called a group of consultants," Zhan said. "Some of the 'curators' do not have any experience of staging exhibition themes before this time."
Zhan, a sculptor-turned contemporary artist who has developed his own style in the past decade, sees the development of contemporary art in China through the filter of his own vision and practices.
In the late 1980s, Chinese arts experienced all kinds of trials and experiments, mainly copying Western modern arts.
Since the early 1990s, Chinese contemporary art has seen concrete development, as more and more artists have begun to form and develop "contemporary consciousness and concepts" in the way their international counterparts have.
Zhan and other Chinese contemporary artists have participated in many biennales in foreign countries.
Zhan concedes that Chinese society and governmental organs, including the Chinese Artists Association, have begun to accept and appreciate contemporary art.
"With our effort, the group of artists practising contemporary art have been expanded a great deal," said Zhan. "With the acceptance of the public and authority, Chinese contemporary art has grown fast since it rose from the underground."
Although Zhan has different opinions which counter official ideas, he is one of the 150 Chinese artists whose works have been selected to attend the Beijing Biennale.
"Despite seeing many defects in the event, I welcome the launch of the Beijing Biennale," he said.
Though he still laments that the event does not represent typical Chinese contemporary art, the artist sees at least one positive aspect: "The international part of the event, which has participation from most of the famous figures in the world's modern and contemporary art, should be really worth visiting."
Gala treat in store for art lovers
The First Beijing International Biennale 2003 provides an unprecedented platform for professional artists from around the world, organizers claim.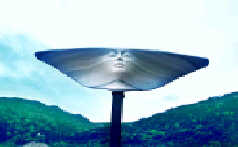 An art work by an unidentified artist.
"I believe that the international part of the expo includes most of the senior artists in the history of contemporary art," claimed Tao Qin, the general secretary of the event. "We carefully selected them from 40 developed and developing countries boasting rich culture and long civilizations."
In addition to the two major venues - China National Art Museum and China Millennium Monument Art Museum - where the themed exhibitions are held, a dozen shows introducing China's various art forms will be found in 10 other museums and galleries.
Each exhibition in the Chinese series will focus on one specific art form, such as traditional Chinese painting, water and ink, oil painting, sculpture, woodcut print, crayon, and lacquer painting.
And if that's not enough for art fans, many artists and agents are organizing fringe shows highlighting Chinese contemporary art in a dozen exhibitions in galleries around town.
In addition to the kaleidoscope of exhibitions, seminars will be staged between September 21 to 23. Curators, critics and artists from home and abroad will offer their views on the hot issues of the day.
Ten awards for the best works of art will be made by a jury of judges. "The judges include authoritative Chinese critics and artists, as well as some international figures," Tao said.
"They can only start evaluating each piece of art after the international works have arrived."
The arts extravaganza will, organizers hope, spark the imagination of the creative community well beyond Beijing.
Biennale factfile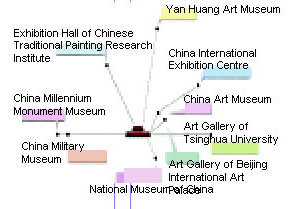 Beijing's map for art lovers.
The First Beijing International Biennale 2003 will be hosted from September 20 to October 20 by various museums and galleries around the city:
China National Art Museum
Ticket: 20 yuan (US$2.4)
Location: 1 Wusi Dajie, Dongcheng District
Tel: 6401-2252, 6401-7076
China Millennium Monument Art Museum
Ticket: 30 yuan (US$3.6)
Location: to the west of Military Museum
Tel: 6851-3322
Museums that feature Chinese exhibitions:
Yanhuang Art Museum
Location: 9 Huizhonglu, near the Asian Games Village, Chaoyang District
Tel: 6491-0909
Exhibition Hall of Chinese Paintings Research Institute
Location: 54 Northwestern Fourth Ring Road
Tel: 6841-1369
Museum of International Art Palace
Location: 1/F, Crowne Plaza, 48 Wangfujing Dajie
Tel: 6513-3388 ext 1207
China Military Museum
Location: 9 Fuxinglu, Haidian District
Tel: 6686-6114
China Revolutionary Museum
Location: east side of Tian'anmen Square
Tel: 6526-3355
China History Museum
Location: east side of Tian'anmen Square
Tel: 6512-8321
Other venues staging Chinese contemporary art events:
A show called Left Hand and Right Hand, involving 50 contemporary artists from China and Germany, will be hosted by the new Dashanzi art zone.
Location: inside Factory 798, in Jiuxianqiao area, to the east of Holiday Inn Lido Hotel
Today Art Museum
Tel: 6221-6146
Courtyard Gallery
Location: 95 Donghuamen Dajie, Dongcheng District
Tel: 6526-8882
Schoeni Art Gallery
Location: Tower B-904, SOHO New Town, 88 Jianguolu, Chaoyang District
Tel: 8580-2141