Sex museum flees Shanghai streets
( 2003-09-12 09:10) (China Daily)
China's Ancient Sex Museum, once located in the Shanghai's booming streets, now has to move to Tongli Town in East China's Jiangsu Province due to a funding shortage.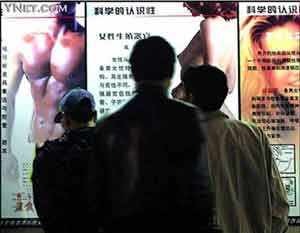 People visit the museum.
It is the third time for this private museum to move in the past four years. After moving out of Nanjing Donglu, the busiest part of Shanghai, in 2001, it is now located in the isolated residential area of Wuding Lu. The new museum in Tongli, 80 kilometres away from Shanghai, will open on April 18 next year.
"The museum is about 20,000 to 30,000 yuan (US$2,420 to 3,630) in the red every month, it is very difficulty for me to fill this hole," said Liu Dalin, head of the museum and professor of sexual science.
So when officials from the famous tourist town of Tongli came to Shanghai at the end of this June, Liu immediately became interested.
The two sides signed an agreement that the museum will stay in Tongli for 10 years, following two months of negotiations. It will start to move there at the end of this year, according to Hu Hongxia, Liu's partner.
Tongli will invest about 1 million yuan (US$120,000) in the first phase which will involve choosing the site and decorating it. The new museum, next door to the famous scenic spot of Tuisi Garden, will cover over 7,000 square metres which is more than 10 times bigger than now existing site. The two sides will get equal shares of the ticket revenue.
But town officials reiterated the focus is not on making a profit. Liu Xinzhong, the town head, said: "I won't expect many people would come to the museum at first. Our first aim is to protect, research and exhibit Chinese culture."

Liu Dalin
Among the over 3,700 exhibits collected by Liu, over 20 pieces are 5,000 to 6,000 years old. Tongli will adopt a new slogan for the museum: "Build the best sex culture museum in the world."
Town officials are worried if local people will accept the museum. "Local people are not as open-minded as Shanghai people," Liu said.
So the town officials prepared to invite Liu to give some speeches about sexual science in the town in advance. In addition, the museum would only be open to foreigners and groups at the beginning, and then would gradually open to local individual visitors.
When the museum was on Nanjing Donglu it was not allowed to hang a sign outside as the authorities said it was not allowed to advertise sexual products according to the Advertisement Law.