Waking a sleeping dog
( 2003-09-12 08:35) (Shanghai Star)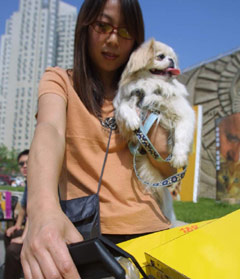 Rabies is an infectious disease with a high death rate in China, according to the inistry of Health.
The spread of the deadly disease has led to a large-scale campaign of dog killing in Southern China's Guangdong Province.
And in Beijing, the municipal government is collecting comments from the public about a new dog administration regulation, because the present dog administration regulations, lagging behind the times, are ineffective and cannot be enforced.
The same problem exists in Shanghai, even though there are only one or two cases of rabies each year. The high licence fee deters many dog owners from registering their pets and the number of "black (unlicensed) dogs" is estimated to be up to eight times higher than the 100,000 registered dog population.
"Black dogs" are not immunized or covered by disease prevention measures.
"Dogs without licences are supposed to be killed," said Shi Yan of the Shanghai Disease Prevention and Control Centre. But the city's police force is not able to control the number of dogs wandering about illegally. And their brutal working methods have drawn wide public criticism.
"The regulations lag behind the times," said Zhou Quan, vice-director of the Shanghai Institute of Veterinary Hygiene Supervision.
Dear licence
In the mid-1990s, when the regulations were made, the main aim was to restrict the number of dogs in the city. A high registration fee was charged for each dog, making pet-owning a luxurious item for citizens.
In the downtown area, the initial registration fee for each dog is 2,000 yuan ($241) with another 2,000 yuan being charged annually as an "administration" fee. "It is a month's income for me," said one retired woman.
Dog owners also complain about the high fees because only a small proportion of the money is used on immunization measures with the rest going to the Public Security Department of the Municipal Police, as "administration" fees.
A major job of the department is to catch and "dispose" of unlicensed dogs, and to impose fines for any "improper" behaviour by licensed dogs.
And the registration procedure is complicated. First, dog owners have to obtain a form from the local police station. Then they have to get signatures from three or four neighbours, giving permission to keep the pet. Then they have to bring the form to the residential community and ask for their seal of approval.
"I took many pictures for my community in order to get their permission for my dog," said Jiang Yong, a freelance photographer.
Next, a policeman has to come, check the dog and take a photograph. There are also restrictions on the breeds of dogs allowed to be kept as pets - for example, dogs with wolf blood are not allowed in most residential communities.
"Many of my expatriate customers are confused by the complicated procedure, as they are unfamiliar with the regulations and the legal system in China," said Christian Chang, a veterinarian with Petshome Animal Medical Co Ltd.
Some canine breeding farms offer a registration service for customers. Otherwise only those who keep up a good relationship with high officials can obtain dog licences easily.
The government adopted a new procedure last year, injecting microchips into dogs which had licences. But no compatible software was supplied to the police. "They brought me a different dog, when I reported my dog was lost," said Jiang. Such a thing could not happen if the police were able to read the information contained in the chips.
Most people are willing to pay for their pets to be immunized but, according to the regulations, immunization can only be done in a few designated locations on a few days each year.
"It is inconvenient," said Chang. "The common practice abroad is to have immunizations done at the local vet's."
However, in Shanghai, ordinary pets' hospitals are not allowed to provide immunization although almost every pets' hospital is acting against the law in this respect.
There are nearly 40 registered pet clinics in Shanghai and another 40-odd are offering clinical services though they are registered as pet shops only.
Unfair treatment
The "Pet Industry" is a novel business field so there is no effective supervision or administration system.
Some breeding farms don't give proper immunization injections to the pets they sell. In addition, some customers later complain that the puppies they bought grow into a different breed from the one they thought they had acquired.
"Immunization is important not only for dogs but also for other pets such as cats," said Chang. There are wild animals around the city, which may carry and spread viruses and diseases. Chang himself once saw a weasel on Yan'an Xilu. But there are no relevant regulations applying to any other pets.
Dog owners are not allowed to walk their dogs in residential communities which has made looking after dogs properly almost like engaging in an underground activity.
The owners say they have to walk their dogs either in the early morning or after dark.
"Keeping a dog and you become a second-class citizen in the eyes of your neighbours," said Jiang. "They already think they have done you a great favour in allowing you to keep it."
Chang said in Shanghai, in comparison to Taipei, 10 times as many owners asked vets to remove the vocal cords of their dogs to stop them from barking.
"We treat animals as pets in times of peace, as food in times of famine, and in crises such as the SARS scare, as ready scapegoats," lamented Jiang.
Jiang also strongly rejects eating dog meat. "They say it strengthens one's sexual ability. I'd rather have no sex for my whole life than to eat it."
Some people have quite different complaints to make about people who keep dogs as pets. "I was on the stairs on the way to my home when I saw a dog in my way," said a local woman, who is afraid of most animals. She didn't dare try to go home until some hours later.
"We advocate raising dogs in a scientific and civilized way," said Zhou. "The ideology has to be changed as people have the need for leisure and pets.
"The older generation doesn't like to feed pets with pet food, for fear it doesn't offer sufficient nutrition," said Jiang. Many pets in China have decayed teeth and other health problems, thanks to the food they eat.
Keeping dogs can also be trendy and they can be fashion items. Certain breeds of dogs are popular and highly-prized for a few years but then they become "outdated". Many dogs are abandoned for this reason, and end up as strays.
"I hope the Shanghai Government can take preventative methods before serious problems occur - such as large packs of stray dogs and the spread of infectious diseases. The city has the capability to be first in the country in this area," Chang said.