New breed spawned by better education and rising affluence
( 2003-09-11 10:51) (China Daily)
Eileen catches more than a few stolen glances when she strolls along the pavement. She knows she is attractive. She fields several amorous overtures every week and routinely turns down formal offers from matchmakers. Yet she does not consider herself picky.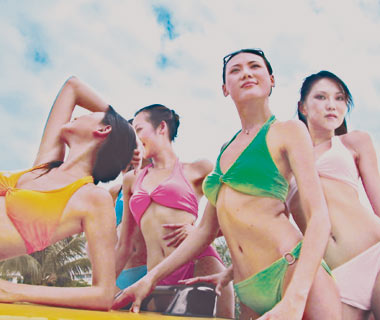 The growing legion of single, successful women in China are defined by high education, high income and high position and social status. [newsphoto.com.cn]
Eileen is a graphic designer for a newspaper in Guangzhou. She moved to the city after graduating from college elsewhere. Life is easy. She makes from 5,000 to 7,000 yuan (US$600-850) a month, enough to pay for her gym classes and makeover sessions and then some. So she used her savings to make a down payment on an apartment in the southern suburbs. The cozy flat is a combination of the chinois and the bourgeois, with a touch of the latest style she happens to fancy.
"Why should I consider myself incomplete? Because I don't have a husband or a steady boyfriend? I have a good job. I have friends I talk with frequently whom I can trust. Most importantly, I'm happy with myself. I don't see any need to languish in a 'family life'."
Eileen is not alone. She is one of a growing legion of successful women who have chosen career over marriage. They live in major urban centres and tend to be the creators, as well as followers, of fashion.
In Beijing alone, according to the most recent study, the number of singletons between 30 and 50 reached half a million in 2002, five times the figure for 1990. And about 60 per cent of them are female. Shanghai and other metropolises report similar trends.
However, when most people talk about the "single urban female", they're usually referring to the 25-35 age bracket, those whose images tend to grace magazine covers or billboards. In Beijing, people have borrowed an old term, "big northern waste", to describe this overachieving demographic.
Three major factors define women in this group: (a) high education - a bachelor degree at bare minimum, with some holding diplomas from Western countries; (b) high income - annual salaries ranging from 50,000-500,000 yuan (US$6,040-60,400); and (c) high position and social status - mid-level creative or management jobs in "glamorous" industries such as media or public relations.
"Not for them the usual secretarial jobs of old. They don't shuffle paper for a living, rather they often have people shuffling it for them," said one commentator.
Pursuit of perfection
Does a successful career necessarily preclude marriage?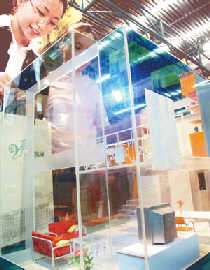 Two young women look at an apartment plan designed for single tenants at a real-estate exhibition in Nanjing, Jiangsu Province. [newsphoto.com.cn]

While proud of their single status, most of single urban women are not against the institution of marriage. "I'd like to get married like most people, but I just can't seem to find the right guy," so goes the popular rationale.

"Many of these women are perfectionists," said Wang Jing, general manager of Sichuan Milan Apparel. "They won't set an age limit for themselves to find Mr Right."

On her 25th birthday, Xiao Fang received a phone call from her best friend: "Right now, you are still in the morning of your life and the carrot is selling for a good price. By noon it will plummet to one dollar. But if you wait until dark, you'll be lucky to sell it for a few pennies."

Xiao Fang had always fancied a Rhett Butler type, but unfortunately she is usually approached by Ashley wannabes. Her friend's warning chilled her to the bone, so her number one priority for the year became to marry herself off. But the more determined she was to get inside "the city wall of marriage", the more she noticed people fighting their way out of it.

"The happiness on their faces only seems to last as long as the wedding, or even the honeymoon, and then I start to hear horror stories. Some of them do not get enough attention from their husbands while others feel stifled. Just when I thought I had convinced myself that marriage would be good for me, I started to drift further away from it," revealed Xiao Fang.

"These independent women share one belief: it's better to be single than to marry and regret it. They insist on finding someone who is wholly compatible and perfect," said Hu Herong, deputy editor-in-chief of Chongqing-based New Women's News.

So, who are the "Rhett Butlers", and what sort of Prince Charming can captivate their hearts?

"Someone who can exceed their level in terms of career achievement and personal aptitude, at least someone on their own level," elucidated Sichuan's Wang Jing.

Xiao Xu, a Beijing editor currently working in Hong Kong, breaks it down to the basics. "A girl always wants a guy who is one level above her own. So, a level C woman would want a level B man, and a level B woman a level A man. If we look at the whole picture, we see that women at the topmost level and men at the bottom level are the ones who have difficulties finding mates."

But even an A-plus man is more often than not intimidated by a level A woman. An aggressive professional woman can give the impression that she is bitchy or combative. This is not really her fault, said Hu Herong, because she has to act like that in order to stand out.

Many of the single urban females have had failed marriages or relationships before. Once stung, always cautious, Hu explained.

A room of her own

"Buying a house is the most important demonstration of a woman's independence, much more than finding a candidate for a husband," said an advertising representative named Guan.

Surveys show that women who buy homes in their own names rather than as heads of household are growing at a double-digit rate, as high as 52 per cent from 2000 to 2001. More than 63 per cent of women polled have expressed their first wish as "having a house of my own if I have the financial resources". A home, to a single urban female in China, has suddenly taken on a Virginia Woolf-like connotation in that it goes beyond merely an abode to a symbol of independence, security and self-respect.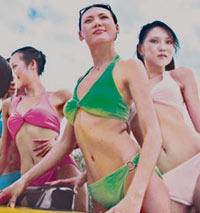 The growing legion of single, successful women in China are defined by high education, high income and high position and social status. [newsphoto.com.cn]
"It may only be a starter home with less than 500 square feet, but it is the very first brick in my economic foundation. It also provides a shelter from the storms of personal frustration, especially when I'm hurt emotionally. It gives me a place to moor my heart," added Guan.
In the old days, when a woman left her school dormitory or her parents' home, she found herself in a race to win the stability of a man's domicile, because a man was supposed to be responsible for protecting the whole family. Today most men still carry this responsibility, but women, on the other hand, no longer feel the pressure to marry for the sake of getting a roof over their heads.
"If I did not have my own place, holy matrimony would be hurried matrimony instead. But now I have peace of mind because this will always be mine. Even if I marry and then divorce, whatever I own before the marriage will be my personal assets," said a 32-year-old sales manager from Fujian Province.
Single women have become such a driving force in the urban real estate market that many developers are creating special designs just for them. Many small, cozy apartments used to be carved out of "leftover" spaces, but now they get their own floor plans.
"A room is not a house, and a house is not a home." If Barbra Streisand, a strong woman with feminist and perfectionist inclinations, can sing these lines, there must be some truth to them.
"I'm known for my independent thinking as well as a strong personality. But when I see my colleagues leaving arm in arm on a Friday night, I cannot help feeling a sense of emptiness. Yes, I can go home and watch a DVD without anyone bothering me, but somehow the walls seem to lack a tinge of warmth at that time," lamented Beibei, a Shanghai lawyer.
To fill the void, some women experiment with a promiscuous lifestyle. "Why should I act like one of those stupid heroines in romance novels? I simply refuse to wither away in loneliness. I love life and I want to experience a rich variety before settling down. I don't see any reason why women should be faulted for this while men are allowed to get away with it," said Chen Yiling. "I used to cry myself to sleep, but not anymore".
I shop, therefore I am
Advertisers, take note of this formidable force in consumer demographics.
Single urban women have disposable income and are willing to spend. Besides such major investments as housing, anything that will make them look good and feel better, from fashion products to tourism, is wholeheartedly embraced. There is even talk of a "single women's economy".
"I spend money on junk food, and then spend more money to work out to get rid of the extra fat. I'm an advertiser's dream," joked Julie, who works for the China subsidiary of a multinational corporation.
Marketers say this group is the most susceptible to advertising. Even though many of them work in media, advertising or public relations, they never for a minute doubt the lure of the advertising message or the power of consumerism.
"I keep myself busy and lead a varied life. I go to concerts and performing arts shows, I dine out and attend parties. I take part in all kinds of sporting activities. I get a great sense of satisfaction from spending my own money. It's not necessarily the things I buy, but the act of spending itself that reinforces my identity as an independent woman," said an advertising executive named Ye.
But there are people who interpret shopping-and-bar-hopping as a sign of being lost or using material things as surrogates for a fuller life. "At the end of the day, one needs a partner in life. Many of these women are emotionally fragile, and they try to deceive themselves that financial independence can take the place of emotional fulfilment," said Wu Chengxiang, an administrator for a performing arts group.
"Money may buy you independence, but it won't buy you happiness. On the other hand, you don't really need to explain why you choose to be single. It is your right," said Lu Xiuzi, a commentator.
Her Voices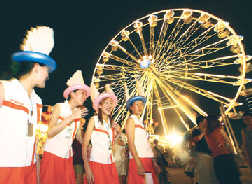 Young women at Shanghai's World Carnival.
About marriage:
'These independent women share one belief: it's better to be single than to marry and regret it. They insist on finding someone who is wholly compatible and perfect.'
-- HU HERONG, deputy editor-in-chief of New Women's News
About housing:
'If I did not have my own place, holy matrimony would be hurried matrimony instead. But now I have peace of mind because this will always be mine. Even if I marry and then divorce, whatever I own before the marriage will be my personal assets.'
-- GUAN, a 32-year-old sales manager from Fujian Province
About sex:
'Why should I act like one of those stupid heroines in romance novels? I simply refuse to wither away in loneliness. I love life and I want to experience a rich variety before settling down. I don't see any reason why women should be faulted for this while men are allowed to get away with it.'
-- CHEN YILING, a single woman
About money:
'I get a great sense of satisfaction from spending my own money. It's not necessarily the things I buy, but the act of spending itself that reinforces my identity as an independent woman.'
-- YE, an advertising executive