War on software piracy begins
( 2003-09-09 08:59) (China Daily)
Copyright administrations in Beijing, Shanghai, Guangdong and Sichuan took drastic actions together Monday, marking the start of a month-long special action against pirated software.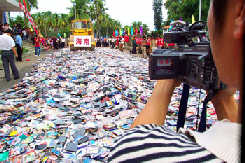 More than 300,000 pirated discs are distroyed in Haikou, South China's island province of Hainan, August 11, 2003. [newsphoto.com.cn]
The special action, launched by the National Copyright Administration, is a move to support the development of the software and electronics industries.
Through investigations of all kinds of software markets, copyright administrations hope to facilitate cracking down on firms that produce and sell pirated software.
Enterprises that install pirated software on computers before sale will also be major targets of the special action, according to sources with the National Copyright Administration.
The administration will also strengthen its surveillance of the very common practice of distributing illegal software over the Internet, according to the source, and service providers caught indulging in such practices will be dealt with according to the law.
Piracy has become a major obstacle holding back the development of China's software industry in recent years.
Though the country has shaped policies to encourage the industry's development, the burgeoning industry still needs a more effective copyright protection system, said a statement of the administration.
Just yesterday morning, the Beijing municipal copyright administration confiscated 70,000 pirated software discs and 10,000 pirated DVDs and VCDs in an investigation of a three-storey electronic product market called Wanshiji.
In the same morning, officials in Guangdong Province, in South China, confiscated 33,500 pirated software items in three large computer markets, while officials in Sichuan Province of Southwest China confiscated as many as 110,000 pirated software items.
The National Copyright Administration said that similar actions will be taken against software piracy in the future.
And from October 10 to 20, the administration will specially assign a supervision team to appraise the results of this special action.
Over the past decade the government has pushed cracking down on piracy and protecting copyrights.
Incomplete statistics show that from 1995 to 2002, the country's copyright administrations have destroyed 197 million pirated items.