Abbas resigns; Israel bombs Gaza City
( 2003-09-07 10:27) (Agencies)
A disillusioned Mahmoud Abbas resigned as prime minister Saturday after a four-month power struggle with Yasser Arafat, leaving Israel and the United States without a negotiating partner and prompting calls by some top Israeli officials to expel Arafat.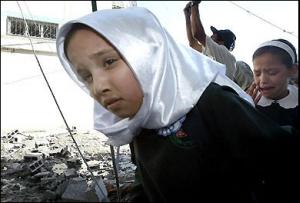 Palestinain youth pass the building targeted by Israeli missile attack as they try to get home from school in Gaza City. Israel carried out an air raid in city's Al-Rimal downtown neighbourhood. Hamas spiritual leader Sheikh Ahmed Yassin was slightly wounded in Israeli air strike, Hamas officials said. [AP]

Just hours later, an Israeli warplane dropped a 550-pound bomb on a Gaza City apartment in a botched attempt to kill several top Hamas leaders, including the Islamic militant group's founder, Sheik Ahmed Yassin, who escaped with a minor injury.

Saturday's dramatic events dealt the most severe blow in months to U.S.-led peace efforts: wrangling over an Abbas successor could freeze the troubled "road map" peace plan for weeks or months, and the attack on Yassin could provoke more Hamas suicide bombings and Israeli reprisals.

Israel declared a state of high alert Saturday evening, bracing for more attacks.

Yassin was the highest-ranking Palestinian leader ever targeted by Israel, and top fugitives, including Mohammed Deif, No. 1 on Israel's wanted list, were also in the room, security officials told The Associated Press on condition of anonymity.

Israel saw Abbas' resignation as a power vacuum in which it felt compelled to act immediately against Hamas.

"No Hamas official is immune," said Israeli Foreign Ministry official Gideon Meir, adding that "there will be other chances" to go after Hamas leaders.

In Ramallah, there was confusion throughout the day about whether Arafat had accepted Abbas' resignation ! and if he had, whether his decision was final.

The veteran Palestinian leader had told a large gathering of legislators and Cabinet ministers that Abbas was now heading a caretaker government, implying Arafat agreed with his prime minister's decision. But he stopped short of confirming this in writing, as required by law.

An Abbas confidante, speaking on condition of anonymity, said the prime minister told him he felt abandoned by all sides and was deeply hurt by the events of the recent days.

Abbas told a closed-door session of parliament that he would not change his mind. Reading from a prepared statement, he explained why he quit. Israel, he said, had not carried out its obligations under the road map, the United States had not enforced Israeli compliance and his detractors at home had constantly undermined him with "harsh and dangerous" incitement.

Abbas, who has a reputation for shying away from confrontations, was buffeted by stronger forces, including an entrenched and embittered Arafat, Israeli leaders who gave him little to show his people, and Palestinian militants who paid little heed to his calls for ending violence.

His resignation ! if it stands ! is not necessarily a victory for Arafat, whose international standing is likely to slip even further, particularly if he is perceived as having engineered Abbas' ouster. Israel might be more likely now to make good on threats to expel Arafat.

Justice Minister Yosef Lapid, a member of the Israeli security Cabinet, said Israel has refrained from kicking out Arafat at the request of the United States. "Maybe the White House will have second thoughts now, and then we'll have to consider Arafat's presence again," he said.

Abbas' decision to quit apparently caught the Bush administration by surprise. As late as Friday, Secretary of State Colin Powell insisted that progress was being made in implementing the road map.

In the hours after Abbas submitted his resignation, stunned administration officials were uncertain that he would follow through. By afternoon, however, a State Department official said the administration had become more convinced that Abbas really was quitting and that Arafat would accept his resignation.

The Bush admistration said it was determined to continue with the road map, but didn't back down from its disdain for Arafat, whom it says is an obstacle to peace efforts.

"At this critical moment, it is important that all parties consider carefully the consequences of their actions," White House spokesman Scott McClellan said.

"The creation of the office of prime minister was a key turning point for the Palestinian Authority in the development of new institutions to serve all the people, not just a corrupt few tainted by terror," he said. "The prime minister must be supported by a cabinet committed to fighting terror, political reform and rooting out corruption."

Arafat was to meet with leaders of his Fatah movement and legislators Sunday to consider the next move. One option is to try to reappoint Abbas. This would allow Arafat to strip the Abbas Cabinet of those he doesn't support, particularly security chief Mohammed Dahlan.

The likely Abbas successor is Parliament Speaker Ahmed Qureia, a pragmatic politician who played a key role in earlier peace talks and might be acceptable to Israel and the United States. Another contender is Finance Minister Salam Fayad, widely respected for curtailing Arafat's access to public funds. Israeli officials said Saturday they'd favor Fayad's nomination.

Israeli Prime Minister Ariel Sharon warned in a statement that Israel would not do business with a government controlled by Arafat or his loyalists.

A senior Israeli military official, speaking on condition of anonymity, said that despite the turmoil, peace efforts could resume ! perhaps at an accelerated pace ! if Abbas were to be reinstated with full powers over security forces and if Hamas agreed to disarm.

In Gaza City, thousands of Hamas supporters poured into the streets, handing out sweets to celebrate the survival of their leaders. One Hamas member riding in a car led a chant over a loudspeaker: "Sharon listen very well. You bought a free ticket to hell."

Palestinians fired at least one mortar shell that landed in a Jewish settlement in the northern Gaza Strip late Saturday, but no one was wounded, the army said.

In the Israeli strike, which Abbas denounced, an Israeli warplane dropped a bomb through the window of a third-story apartment where top Hamas leaders had assembled ! to plan more attacks, Israeli officials said.

Yassin was slightly wounded in his right hand, and 15 people were also hurt. Deif, the top fugitive, survived Israel's third attempt on his life; his assistant, Adnan Al-Ghoul, also got away, Israeli security officials said.

The officials said the attack failed because Israel used a smaller bomb to avoid harming civilians. In a July 2002 attack, a warplane dropped a one-ton bomb that killed its target ! Hamas military leader Salah Shehadeh ! but also 14 bystanders, among them several children, prompting an international outcry.

Bodyguards carried Yassin out of the building and he was driven away in his brown four-wheel drive Land Rover. Yassin surfaced at a Gaza City mosque, where he renewed threats of revenge.

Yassin, a frail, 68-year-old sheik widely revered among his followers, denied he was meeting with Hamas commanders in the targeted apartment. "Their (the Israelis') intelligence is giving them wrong information, and this is only an excuse to bombard and kill innocent people," Yassin said. "I was visiting my friend."

Hamas, which does not recognize Israel's right to exist and is a bitter opponent of any peace agreement, has been behind most of the 100 suicide bombings that have killed 397 people since the start of fighting in September 2000.