Several nuclear-power plants to quench energy thirst
( 2003-09-04 09:33) (China Daily)
The National Development and Reform Commission (NDRC) is expected to officially approve construction of two new nuclear power plants in Zhejiang and Guangdong provinces, respectively, within months and is mapping out an ambitious plan to build 30 more reactors in the next 17 years.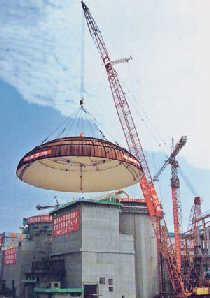 The construction site at Ling'ao Nuclear Power Plant in Guangdong Province. Ling'ao has installed two reactors and plans to build another two. [newsphoto.com.cn]
For the first time, nuclear power, which has not previously been included in China's industrial energy plans due to safety concerns and high investment costs, will be treated as a "new business sector" in the national development strategy, said Chen Shuyun, a member of the China Academy of Sciences.
Four reactors first
The construction craze will start with four million-kilowatt reactors slated to be built at the Sanmen and Yangjiang nuclear power plants.
Construction plans for the two new plants were approved in principle by the State Council on January 29. Total investment will come to roughly 50 billion yuan (US$6.02 billion).
The NDRC will officially give the go-ahead to construction of the two reactors at the Sanmen plant at the end of this year, said Gong Fengguo, an official with China Nuclear Power Industry Group, which is in charge of preparation work for the plant.
Meanwhile, Guangdong will submit its application report to the NDRC to build the Yangjiang plant before the year is out and expects to receive the commission's official approval next year.
International bidding on key equipment and technology for the two nuclear power plants will likely be held in the first half of next year with the winners being announced in the second half, according to an NDRC official who declined to be identified.
Major international nuclear power companies, including EDF, Alstom, Framaton, Westinghouse and Mitsubishi, have all expressed strong interest in the plants.
The Yangjiang plant, the third nuclear power plant in Guangdong Province, is designed to include six reactors with a total electricity generation capacity of 8 million kilowatts and total investment reaching US$8 billion upon completion, according to Hu Guangyao, an official with Guangdong Nuclear Power Group Co Ltd.
Construction on the core part of the plant will start in 2006, and the first two reactors will start operating in 2010, said Hu. The whole project will take 15-20 years to complete.
Yangjiang started building roads last month that will be finished next March, he added, while the construction of a reservoir and other necessary infrastructure will be completed in 2005-06.
Many companies from China, the United States, Japan and France hope to bid for the design of the plant, Hu said.
Guangdong already has two nuclear power plants - Daya Bay and Ling'ao. Each plant has installed two reactors and Ling'ao plans to build another two reactors. When construction is completed, Guangdong will have altogether 12 reactors with a total generation capacity of 12 million kilowatts, as compared with the 18-million-kilowatt capacity of the world's largest hydropower station, the Three Gorges.
On August 5, the city government of Yangjiang signed an agreement to transfer 472,485 square metres of land to Guangdong Nuclear Power Group Co Ltd.
Meanwhile, Gong Fengguo confirmed that the NDRC will officially approve the Sanmen nuclear power plant in Zhejiang Province at the end of this year.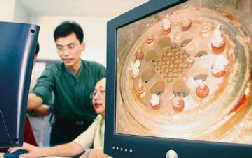 Scientists from the No. 2 Division of Nuclear Power Institute of China demonstrate scientific breakthroughs, which will help enhance fuel efficiency of nuclear power plants. [newsphoto.com.cn]
Local officials said Sanmen may become China's second largest energy production base, providing 25 million kilowatts in nuclear and thermal power generation capacity in the next 20 years.
The first phase of construction of the Sanmen nuclear power plant will include two reactors built with an investment of 25 billion yuan (US$3.01 billion).
Construction of core buildings of the plant will start in 2005 or 2006.
Planning new plants
According to NDRC plans, China's nuclear power generation capacity will reach at least 32 million kilowatts by 2020, suggesting the construction of another 30 new reactors of about 1 million kilowatts in generation capacity each.
According to the commission's estimate, China will need an electricity generation capacity of 800-850 million kilowatts by 2020 when the country's gross domestic product (GDP) is expected to reach US$4 trillion.
Current capacity stands at 350 million kilowatts. The country will need to make up a generation capacity gap of 32 to 40 million kilowatts by 2020, even with the construction of the maximum possible number of new hydro and thermal power stations.
The commission thus proposed to build more nuclear power stations to fill that breach, relying on nuclear power to contribute 4 per cent of the entire electricity generation capacity. The ratio now is 1.3 per cent.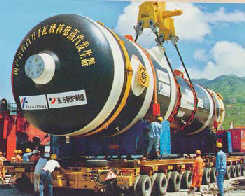 Guangdong Province will submit its application to the National Development and Reform Commission to build the Yangjiang plant. [newsphoto.com.cn]
At the moment, only seven nuclear power generators are in operation in the country, with a total generation capacity of just 3.6 million kilowatts. Adding the capacity of those under construction, the figure rises to a mere 8.7 million kilowatts.
Sensing the dawn of a new era in China's nuclear power construction, foreign and domestic companies are taking steps ahead of the government.
In early April, EDF, France's nuclear power giant and the largest nuclear power plant builder in the world, reached an agreement with China Electricity Group to form a long-term co-operative partnership.
On May 23, China Electricity Investment Group Corp, the largest shareholder of nuclear power plants in China, started negotiations with the city government of Dalian, Liaoning Province, on building a nuclear power plant there.
A month earlier, the corporation submitted plans to the NDRC for the establishment of a joint-venture nuclear power plant with the Chongqing municipal government in southwestern China.
To date, provinces applying or preparing to apply for the commission's approval for construction of new nuclear power plants also include Fujian, Jiangsu, Shandong, Hubei and Hunan.
Guangdong is planning to build yet another plant in Taishan, which would increase to 20 per cent the ratio of nuclear power in the province's total power supply after it goes into operation.
Lifting the suspension
The central government suspended construction of new nuclear power reactors six years ago due to two concerns, according to industry insiders.
First, high investment costs and lengthy construction periods were considered prohibitive.
Estimates put the cost of installation of each kilowatt of electricity generation capacity at just 4,000 yuan (US$480) for thermal power stations, but this rises to US$1,330-2,000 for nuclear power plants. And it normally takes about 30 months to build a thermal power station, where as a nuclear power plant can take from 70-90 months to construct.
The result is a difference in electricity prices. The second phase of the Qinshan Nuclear Power Plant in Zhejiang Province charges 0.414 yuan (5 US cents) for each kilowatt hour of its electricity, while thermal electricity is priced at about 0.3 yuan (3 US cents) in the same province.
The second reason for the reluctance to embrace nuclear power has been safety concerns.
Accidents at nuclear power plants, such as the one involving the Chernobyl plant in the former Soviet Union, had a negative psychological impact on the government, said Chen Yunshu, senior engineer for China Nuclear Industrial Group Corp.
Chen said nuclear energy involves a very sensitive technology, and the decision-makers, uncertain of the maturity of the technology, have been hesitant to approve new nuclear power plants.
Accordingly, nuclear power is not included in the national energy development plans, nor is it managed or planned as an industry.
Similar concerns have slowed down the development of nuclear power throughout the world.
At the end of March, there were worldwide 441 reactors with a total electricity generation capacity of 359 million kilowatts, of which only three reactors generating 8 million kilowatts were new as of the end of 2000.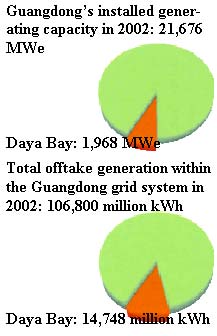 However, fast economic growth and a soaring power shortage in China, along with improvements in nuclear electricity generation technology, during the last six years finally led the central government to consider lifting the suspension.
With growing national economic strength, the necessary massive investments are no longer obstacles and, thus, the advantages of nuclear power can be tapped.
A nuclear power plant's life span lasts about 30 years longer than a thermal power station's. Fixed assets investment accounts for 50-60 per cent of their costs as compared with 30-40 per cent of thermal power station expenses.
Moreover, fuel costs make up just 20 per cent of nuclear power plant budgets, thermal power stations use up more than 50 per cent.
From a long-term perspective, the costs of operating and maintaining nuclear power plants are low, said experts.
Another major reason for lifting the suspension at this time can be traced directly to the growing power shortage nationwide, said Qiu Dahong, a member of the China Academy of Sciences.
For instance, Guangdong, one of the fastest growing regions in China, has been suffering an electricity shortage since 2001. During peak times last year, the province fell short of 3.23 million kilowatts in generation capacity.
In the first seven months of this year, electricity consumption in the province set 14 consecutive records, soaring by 18.1 per cent compared with the same period last year.
According to the provincial government's estimate, Guangdong's electricity consumption will reach 201.1 billion kilowatt-hours in 2005 and 388.3 billion kilowatt hours in 2015.
Fast economic growth nationwide created a severe power shortage that resulted in constant blackouts affecting half the country this summer.
Improvements in international nuclear power safety have also influenced the central government's decision to lift the suspension.
New and safer nuclear power technology has been developed, and the impact of accidents is not nearly as serious as previously thought.
The NDRC is now preparing bidding documents to secure the most advanced technology in the world for construction of the Sanmen and Yangjiang plants.
After six years of a worldwide slow-down, nuclear power will enter a new era when China embarks on mass construction next year.