Survey says 10% of family violence victims are men
( 2003-09-03 10:58) (China Daily HK Edition)
Is it the flip side of family violence or is it a twist of women's liberation? In a family violence incident, the woman is usually the victim. But there are always exceptions.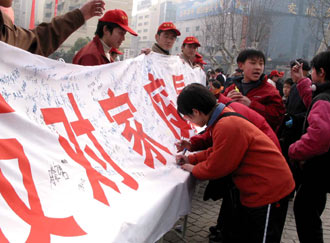 Local residents sign their names on a banner appealing for the halt to domestic violence in the captical city of Nanjing, Jiangsu Province. [Newsphoto]

When Wang Jiang produced snapshots of dozens of bruises on his body, nobody would believe that it was his wife who inflicted them. Wang is a PhD graduate in Beijing and his wife is a PhD candidate.

In typical academic fashion, Wang filed a 10,000-word petition for divorce. He charged that his wife has an inclination for violence, often getting pleasure out of biting their baby. In a court ruling, Wang got custody of the kid.

Wu Qiang, a 30-year-old man from Chongqing, has been married for five years. But he feels he has been deprived of his right to sexual intimacy. So, he filed for divorce and a nominal sum of 100 yuan (US$12) in compensation.

"In the past three years I've had fewer than ten occasions for intimacy," he disclosed. "I cannot stand the marriage any more."

Wu was lucky compared to another case. In the Guangxi Zhuang Autonomous Region, a man had a fracas with his wife and got drunk. His wife kicked him so hard that by the time he was sent to the hospital he was pronounced dead.

Then there is the periodic news of the "shrew" who cut off her husband's penis out of anger or vengeance. Recently in Wuxi, Jiangsu Province, a man was castrated this way.

Strangely, in many of these news stories, the husbands were reported to be nice people who would silently endure all hardship.

A national survey revealed that about 10 per cent of family violence victims were men, most of whom were in their 40s and 50s. And urban men are more likely to be beaten by their wives than those in rural areas.

Men are also less likely to report these incidents. When they do, people often give them strange looks and lawyers are puzzled as how to help them.

When a 25-year-old Yunnan man married his tourist-guide wife, he did not know his duty as a husband would include satisfying his mother-in-law's sexual desires. After a futile plea to his wife, he sought legal help. But the lawyer could not find a clause in the law that applies to his situation.

"The law only says that rape or sexual harassment is a violation of women's rights by men," sighed the attorney.

So what can one do if one suffers from a marriage with a neurotic or sadistic woman?

A Suzhou man is so emotionally exhausted that he appealed to the local women's association for help. Ever since their material life got better, his wife started to suspect him of extramarital affairs. He was not allowed to ride his own car or carry more than 10 yuan (US$1.2) when going out. And he is not allowed to sleep unless he "confesses to his bad behaviour".

The women's association, established to help women victims, was very sympathetic.

"Men usually suffer abuse that is not physical in nature, but no less devastating. We call it 'cold violence'. It's time we gave equal attention to men," said an officer with the association.