Pregnant teens need help & knowledge
( 2003-09-03 09:12) (China Daily HK Edition)



While a little bit of knowledge may be a dangerous thing, when it comes to teenage sexuality, it can be devastating. As the number of teen pregnancies rises in China, arguments for lifting the taboos surrounding sex and educating youngsters are gaining ground.


Following the establishment of a special centre to tackle emergencies related to teenage pregnancy in Chongqing, a similar centre was set up in Jinan, Shandong Province. The growing number of pregnant teenagers "once shunned because of the shame they brought to their families" are finding new avenues for professional help and advice. [newsphoto.com.cn]

Seventeen-year-old Ai Li (not her real name) was four months pregnant when she decided to have an abortion. The high-school girl was loath to tell her parents what had happened. "They had never tried to understand me," she said. "I knew what they would do to me."

More often than not, pregnant teenage girls in China turn to "quacks" for help, despite the dangers, to avoid bringing shame on themselves and their families. This time, however, luck was on Ai Li's side. An "Emergency Assistance Centre for Accidental Teenage Pregnancy" had just been set up in her home town of Chongqing in Southwest China. In addition to a successful abortion, she received counselling from doctors at the centre on sex and reproduction and was given a pack of condoms, all free of charge.

"I had even considered suicide before I went there, fearing that my parents would beat me," the girl recalled. "But the doctors at the centre persuaded them to forgive me, and they agreed to let me go ahead with the abortion."

Sad stories

The centre, which runs an abortion clinic, opened in mid-February. As its name suggests, it helps teenage girls such as Ai Li terminate their unwanted pregnancies and offers them psychological help as well as medication. The clinic, a non-profit facility, operates on donations and subsidies from the local government. "We are adamant about maintaining patient privacy," said Zhou Xin, deputy director for the clinic. "Confidentiality is guaranteed. When a patient comes to us for help, we bring her parents in and talk things over with them until they consent to sign an agreement for the proposed abortion. We assure them that their right to privacy will also be fully respected."

Sex has been a taboo subject in China for well over 2,000 years from feudal times. But even now, at the dawn of the 21st century, the era of the "knowledge-driven economy", many Chinese still regard it as something shameful or dirty to talk about. Most children get evasive responses or even a scolding for asking such "embarrassing" questions as "How did I come into this world?" or "Why do men and women use different toilets?"

However, evading and ignoring the topic will not prevent discreet sexual encounters from taking place between young people. Statistics from the hospital affiliated to the Chongqing Family Planning Research Centre indicate that teenage girls accounted for 34 per cent of all abortions at the hospital in 2002, up from 13 per cent three years ago.

Chinese law requires approval from a parent or guardian before an abortion may be performed on a girl of 18 or younger. "For fear of punishment at home and disgrace in society, girls with unwanted pregnancies tend to go to back-street abortionists, quacks for whom money is the only concern," said Dr Zhou Xing.

Many girls try to "help" themselves even though they know virtually nothing about pregnancy. Dr Zhou cited the example of a 13-year-old girl who used a leather strap to bind her belly in order to conceal her pregnancy. In another example, a boy kicked his girlfriend in the abdomen to make the foetus "disappear".

"Sad stories like these prompted us to open the clinic," says Dr Zeng Qinliang, the clinic's director. "These teenage girls have made a mistake at such a young age. We can't stand to see them sink further and have the rest of their lives ruined."

Facing the problem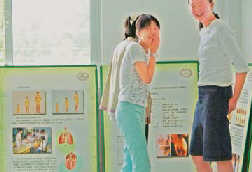 Girl students at a sex education exhibition in Wuhan, Hubei Province. Sex education is believed to be the real remedy for teenage pregnancy. [newsphoto.com.cn]
Within a month of opening, the centre provided counselling to 300 girls aged 16 or younger and performed abortions on 20 of them. "We tell them about the dangers of under-age pregnancies, the harm abortion does to the human body and explain how to use contraceptives," says Dr Zeng.
Most parents are usually furious when they first come to the clinic, and some start beating their daughters immediately. "What we do is calm them down and help them approach the situation in the best interests of the girls," the doctor said.
Experts agree that the opening of the clinic shows that China has begun to face up to the increasingly serious problem of teenage pregnancy. In the words of Professor Li Yinhe of the Chinese Academy of Social Science (CASS): "Care for those in need indicates social progress.
"Society must try to help girls with unwanted pregnancies find a new lease of life," she insisted. "We have to face the problem as it is, and on no account must we look down on them."
Some people, however, take the centre and its rationale with a grain of salt, arguing that it might encourage careless and irresponsible behaviour on the part of young Chinese people. In response to such misgivings, Liu Hong, director of the Chongqing Family Planning Research Centre, had this to say: "The problem of teenage pregnancy would not be any less thorny even if no such facilities as the clinic existed."
Liu called attention to the physical and psychological changes that have taken place in Chinese children in recent decades. As the standard of living continues to improve, he noted, most Chinese children now reach puberty at 12 or 13, a full year earlier than they did in the early 1990s. "It's only natural and understandable that they should have sexual impulses and be curious about sex," Liu said. "If they are not provided with the right information, they are likely to seek answers from adult websites and porn videos."
Of the 2,000 high-school students surveyed in 2002 by the Children and Youth Health Research Centre of Peking University, 56 per cent said they confided nothing to their parents, and more than 82 per cent admitted they had learned about sex from TV programmes or other media. Nearly 49 per cent of the students thought there was nothing wrong with premarital sex, and 10 per cent felt that having sex on a first date was okay. More than 32 per cent deemed it shameful for a high-school student not to have a girlfriend or boyfriend.
The survey also found that more 34 per cent of the students did not know when a woman was most likely to be impregnated, and 10 per cent had no idea how to prevent pregnancy when having sex. About 40 per cent did not know gonorrhoea was a sexually transmitted disease.
In the case of Ai Li, ignorance along with the way her parents treated her should be considered responsible for the girl's pregnancy. According to Dr Zeng Qinliang, Ai Li's parents only pressed her to study hard and forbid her to have any contact with boys. "The girl rebelled by taking a classmate as a boyfriend and neither of them used contraceptives during sex."
Shortly after the Chongqing clinic began operating, the cities of Hangzhou and Jinan in East China followed suit. Similar to its counterpart in Chongqing, the Hangzhou centre is open seven days a week and offers free abortions to pregnant teenage girls. In addition, girls can get emergency medical help within a week's time from having had sex without contraceptives.
Prevention is better
Experts hope to see more such facilities established. Meanwhile, they also advocate sex education in schools, citing the Chinese proverb "to forestall is better than to amend". As Li Yinhe of CASS put it, "These clinics, after all, are just a remedy for the problem of teenage pregnancy, not a solution. We need to provide our children with a proper sex education."
More and more adults have come to share that view. According to a survey conducted last year by the former State Family Planning Commission of 7,000 people between the ages of 15 and 49, 89.2 per cent of respondents in cities and 74.6 per cent of those in the countryside agreed that high schools should offer sex education courses.
"Sex education is not just about physiology, conception, procreation or puberty," said Professor Lu Zizhi of the Department of Social Medical Science and Health Education at Peking University. "It's a tool to enlighten youngsters about sexual ethics and behaviour, gender consciousness, love and marriage."
The country's first textbooks on sex education were published last year and put to use at primary and secondary schools in Northeast China's Heilongjiang Province. Last September, students from more than 100 high schools in Beijing received such textbooks. In April of this year, the first textbooks specially written for college students became available.
Textbooks for elementary school kids address gender differences and the reproductive organs, while those for high school students focus on sexual mores, the meaning of marriage and the responsibility involved, how to use condoms and how to prevent sex-related diseases including HIV/AIDS. Sex-related crimes and legal protections against such crimes are also included.
In the words of Dr Zeng Qinliang of the Chongqing clinic, sex education is the "real remedy" to the problem of teenage pregnancy. "We don't want to see facilities like ours thrive," he said. "We hope to see fewer and fewer girls come to our clinic for help."
Fact box
China has 200 million young people between 15 and 24, and each year 20 million young people enter adolescence, with their sexual maturity coming four or five years sooner than in the 1970s.


Boys and girls are becoming sexually mature as young as 12 or 13, and becoming sexually active earlier, leading to more teenage pregnancies.


Unmarried girls, who had abortions at registered hospital accounted for 33.6 per cent of the total in 2002; compared to 13 per cent in 1998.


According to a survey conducted by the former State Family Planning Commission of 7,000 people between the ages of 15 and 49, 89.2 per cent of respondents in cities and 74.6 per cent of those in the countryside agreed that high schools should offer sex education courses.