Beijing condemns Taiwan passport ploy
( 2003-09-03 07:12) (China Daily)
Beijing strongly opposes Taipei's decision to add the word "Taiwan'' to passports belonging to residents of Taiwan, Foreign Ministry spokesman Kong Quan said yesterday.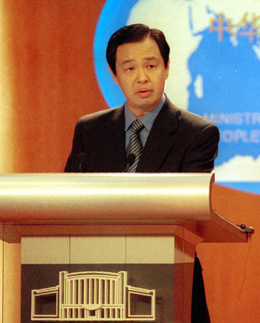 Kong Quan

The Taiwan authority started issuing passports on Monday with "Taiwan'' printed on the cover, instead of the original "Republic of China,'' claiming that this was to avoid confusion with passport holders from the mainland.

Kong warned at a regular briefing that this was an illustration of the Taiwan authority's attempt to seek "gradual independence'' and will further damage cross-Straits relations.

"Such an interpretation is unacceptable,'' said Kong.

Speaking ahead of today's meeting between Premier Wen Jiabao and US Treasury Secretary John Snow, where the renminbi exchange rate issue is expected to be discussed, Kong said China will maintain the stability of its currency,.

"China will continue to maintain the stable situation of its foreign exchange rate,'' Kong said.

"The stable exchange rate of the renminbi is conducive to the economic stability and development of China, Asia and the world,'' he added.

Vice-Premier Huang Ju met Snow yesterday talking on China's economic and financial development and bilateral trade and economic co-operation.

China has adopted a regulated, floating exchange rate mechanism based on market supply and demand since 1994, Kong said.

The mechanism will be improved in line with the country's development, he added.

International Monetary Fund managing director Horst Kohler said in Beijing yesterday that he agreed with China's caution on the issue of adjusting the international exchange rate of China's currency.

He also urged the international community to remember the contribution that China's exchange rate policy made to the regional and world economy during the Asian financial crisis.

In response to a question on the Dalai Lama, Kong said the door for Dalai Lama to contact the central government is open as long as he abandons his separatist activities and acknowledges that Tibet and Taiwan are inalienable parts of China.

When asked to comment on the report that Japan will offer money to victims of the gas leak in Qiqihar in Northeast China's Heilongjiang Province as a token of sympathy, Kong said China has been in consultation with Japan over this issue and has urged Japan for a proper and early settlement.

The gas leak which occurred on August 4 left over 40 victims, including one death.

Li Guizhen, a 31-year-old construction worker died last month from sustained serious burns caused by highly toxic mustard gas leak which was traced to chemical weapons left behind by invading Japanese troops during World War II.