HK, Macao embrace mainlanders
( 2003-09-02 07:12) (China Daily)
A first group of 60 Shanghainese got their passports for personal tours to Hong Kong and Macao yesterday, according to the Shanghai Tourism Administrative Commission.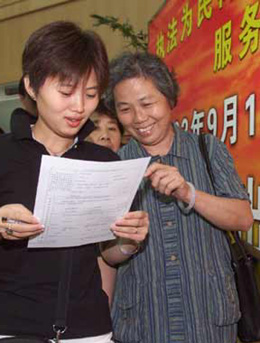 Beijing residents wait in a long queue to apply for an individual pass to Hong Kong and Macao at a public security office in the city.[newsphoto.com.cn]

"Shanghai people are especially enthusiastic about Hong Kong and it has been a long tradition,'' Wang Guangrong, market administration director with the commission, told China Daily yesterday.

Local exit-entry authorities began to accept individual applications for tours to Hong Kong and Macao on August 18 and more than 100 applications have been filed by local residents every day since then, said Wang.

The commission has established a special consultancy department for individual tours to Hong Kong and Macao and is working together with Hong Kong tourism authorities to develop more tourism products for Shanghai residents and to train more local tour guides, according to Wang.

Selina Chow, chairman of the Hong Kong Tourism Board, said yesterday that since a Hong Kong entry visa is valid for three months, mainland travellers can choose the time to come in order to avoid the peak period.

Lui Che-Woo, chairman of the Federation of Hong Kong Hotel Owners, said yesterday that the room tariffs are very reasonable, adding that no unfair attempts are being made to raise the rates.

On August 20, residents in South China's Guangdong Province were the first to start taking individual trips to Hong Kong and Macao, and now Shanghai and Beijing residents are following in their steps.

In Beijing, Ma Zhenchuan, director-general of the Beijing Public Security Bureau, said at a press conference yesterday that the simplification of the application procedures will help promote travel between Beijing and Hong Kong and Macao, as well as other regions.

The new regulation on entry and exit management was welcomed by local residents.

In Beijing yesterday, a retired couple, Du Chengxiang and Jin Yu, presented their applications for individual travel to Hong Kong.

"The reform in entry and exit procedures makes it convenient for us to visit my daughter whenever we wish,'' said 65-year-old Du, whose daughter works in Hong Kong.