Marketing plan for Games launched
( 2003-09-02 06:57) (China Daily)
The marketing plan for the Beijing Olympic Games will ensure that "the Games will open the gates to the most important markets in the world.''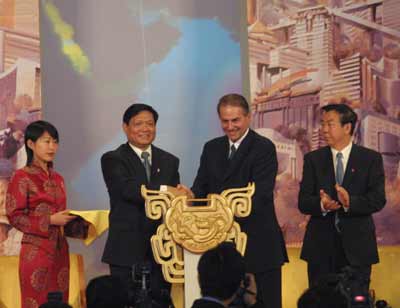 IOC President Jacques Rogge (second from right) shakes hands with Liu Qi president of the Beijing Organizing Committee for the Games of the XXIX Olympiad at the ceremony.
Jacques Rogge, the International Olympic Committee (IOC) president made this unswerving claim at a grand extravaganza to launch the Games funding plan yesterday.
Holding a giant golden key in his hands, Rogge "opened'' a panel on the stage with Liu Qi, president of the Beijing Organizing Committee for the Games of the XXIX Olympiad beside him, holding another key.
Then a giant globe-like balloon was released on the stage, turning, until it froze with a huge image of the new 2008 Games logo projected upon it, followed by a series of stylized images of Beijing.
"Today, as we officially launch the marketing plan of the Beijing 2008 Olympic Games, we are literally and symbolically opening the gates to the future,'' said Rogge in front of more than 600 Chinese and international business leaders and officials -- all potential sponsors of China's first ever Olympic Games.
"There has never been a marketing event so powerful and so full of promise,'' he said, urging the business people to get involved in the Games -- the greatest business opportunity in sports since the 1984 Los Angels Olympics.
The new plan will be another endeavour about Olympic sponsorship besides the "Top'' global sponsor project initiated by IOC, which already includes mega-names like Coca-Cola, Kodak and Visa.
The sponsorship and partnership programmes, which include four-year exclusive marketing rights, are a major marketing strategy of the plan. They will be up for sale in the fourth quarter of this year, with prices to be announced soon. Another programme which gives companies differentiated marketing rights for their designated products is also available.
The Beijing Olympic organizers are also providing a licensing programme that authorizes companies to produce and sell products with the official Olympic emblem only after they pay royalties.
Although hesitant to say how much they expect to make from the plan, the Beijing authorities are optimistic.
"I cannot give a figure but I think it should be larger than that for the 2000 Sydney Games,'' said Liu Jingmin, executive vice-president of the Beijing Organizing Committee.
The Sydney Games generated about US$550 million from "Top'' and another US$700 million from local marketing plans and ticket sales.
Adding in the sale of broadcasting rights, the Sydney Games organizers finally brought in nearly US$1 billion in profits.
Despite the huge potential pool of sponsors, Rogge said the IOC will be very careful in its selections to guarantee the quality of sponsorships.
"We are going for quality and not going for quantity,'' he said.