Blair denies hyping Iraq threat; UK soldier killed
( 2003-08-29 08:41) (Agencies)
British Prime Minister Tony Blair, summoned to a judicial inquiry Thursday, denied aides hyped intelligence reports to justify invading Iraq as the death of another British soldier there underlined the cost of the war.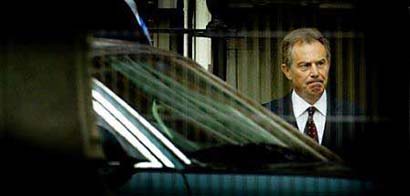 Britain's Prime Minister Tony Blair leaves his official residence at Downing Street for the Royal Courts of Justice to give evidence to the Hutton Inquiry into the death of government weapons expert Dr. David Kelly, Aug 28, 2003. Blair, summoned to a judicial inquiry, denied aides hyped intelligence reports to justify invading Iraq as the death of another British soldier there underlined the cost of the war. [Reuters]

Blair told the inquiry into the suicide of a scientist at the center of a vicious row between the government and the British Broadcasting Corporation over the Iraq war that he would have resigned if a BBC report that spy agency data had been "sexed up" had been true.

Blair, only the second British premier to be called before such an inquiry, conceded his Labor administration had issued a controversial dossier last year on the threat from Iraq under intense public pressure to justify going to war.

But he dismissed the BBC report -- for which government scientist David Kelly, found dead last month with his wrists slashed, was named as the source -- as untrue. "We described the intelligence in a way that was perfectly justified," Blair said.

Just hours before Blair appeared in a packed courtroom at London's Royal Courts of Justice, gunmen killed a British soldier in southern Iraq. Four U.S. soldiers were wounded Thursday when a bomb exploded in Falluja, a hotbed of anti-occupation sentiment west of Baghdad.

In the attack on British troops, a crowd fired rocket-propelled grenades and guns at a convoy, killing one man and wounding another, the British military said.

The incident brought to 11 the number of British soldiers killed in action since May 1, when major combat was declared over in the U.S.-led war that ousted Saddam Hussein. Sixty-four U.S. soldiers have been killed by hostile fire over the same period.

Postwar guerrilla attacks and major violence such as last week's bombing of the United Nations office in Baghdad have provoked debate on whether Washington and its allies have enough troops on the ground with the right training.

With the Bush administration signaling for the first time it might agree to a U.N.-sponsored multinational force in Iraq, diplomats said the United States and Britain intend to explore a new U.N. resolution to encourage nations to send troops.

"You may well start to see ideas on paper next week," said one diplomat at the U.N. Security Council in New York.

The commander of U.S. forces in Iraq said he would welcome more international troops, but stressed intelligence was vital.

"This environment is an environment that requires intelligence ... It requires the ability to move forces around the battlefield rapidly to counter those threats," Lt. Gen. Ricardo Sanchez told a news conference.

"Putting more soldiers on the ground is not going to solve the problem when I don't have the intelligence to act on it."

CLAMOR FOR EVIDENCE

At the London inquiry, Blair, whose public trust ratings have plunged as no sign has emerged of the banned Iraqi weapons Washington and London cited as the reason for war, defended his dossier which said Iraq could deploy the weapons in 45 minutes.

"The clamor for us to produce evidence was very strong," he said. "We had to disclose what we knew because there was an enormous clamor ... it was important it (the dossier) made the best case we could have."

But the BBC allegation of distorting the facts "if true would have merited my resignation," he added.

Scores of Britons had camped out overnight to see Blair give evidence. As he arrived, anti-war protesters brandished placards styling Blair as a "most wanted" criminal and "B.Liar."

Wednesday evening, a British convoy from the First Battalion of the King's Own Scottish Borderers passed through the town of Ali Ash Sharqi, 120 miles northwest of Basra.

About 30 Iraqis confronted the soldiers, who got out of their vehicles, a spokesman said. Another crowd closed in from behind.

"The British soldiers fired two warning shots, and the crowd opened fire with small arms and rocket-propelled grenades," the spokesman said. "One soldier was fatally wounded and another was seriously wounded in the hand." Ten Iraqis were arrested.