6 women drowned in human smuggling
( 2003-08-27 08:52) (China Daily HK Edition)
At least six Chinese mainland women drowned Tuesday when ruthless human traffickers pushed them off a boat as the Taiwan coast guard chased after them near the island, officials said.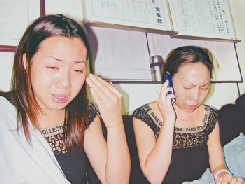 Two Chinese mainland stowaways weep after being arrested by the Taiwan Coast Guard at Taichung harbour August 26, 2003. At least six illegal mainland immigrants drowned at sea off Taiwan after human smugglers threw them and 15 others overboard to lighten their load so they could speed away from authorities. [HK Edition]
The women drowned around 4 am close to Tunghsiao on Taiwan's west coast, a spokesman for the coast guard said.
Another coast guard official, Huang Yun-huang, said that their officers later arrested four Taiwanese men at Penghu Island, west of Taiwan, in connection with the incident.
One of the men had been detained briefly two weeks earlier for smuggling mainland women to Taiwan, Huang said.
The coast guard spotted on radar two boats travelling at high speed towards the shore, the spokesman said. When a coast guard vessel was sent there, guards spotted the women being forced to jump overboard.
A search at sea turned up six bodies, the coast guard official said. The coast guard also found 12 survivors, who were detained for questioning, he said. "The number of dead could still rise," he said.
All 21 illegal immigrants were young women from the mainland lured to Taiwan with offers of lucrative work, the coast guard said, adding that they had paid around 200,000 New Taiwan dollars (US$5,848) each for the trip.
"The women left Fujian Province last Friday," the coast guard official said.
The women said they had not received any food or drink for three days and that the people smugglers had forced them to jump ship when the coast guard vessel approached. "One woman shouted 'Help, help, I can't swim,' but after she went into the water, there was only silence," one of the women, identified as Xu Zhengzheng, said.
"They pulled my hair and dragged and kicked me out of the boat," another survivor said in describing her ordeal on Taiwan television.