Kofi Annan: everyone made mistakes in Iraq
( 2003-08-21 08:42) (Agencies)
U.N. Secretary-General Kofi Annan vowed on Wednesday that the United Nations would not be driven out of Iraq and emphasized that the United States was responsible for security around the now-devastated U.N. headquarters in Baghdad.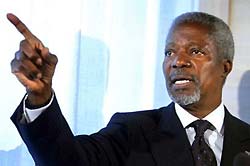 U.N. Secretary-General Kofi Annan makes a point during an impromptu press conference at Stockholm International airport Wednesday Aug. 20, 2003. In response to the attack in Baghdad, Annan promised that the U.N. will stay in Baghdad despite the attack. [AP]

Those who "undertook this violent act are not acting on behalf of the Iraqi people nor are they speaking for them," Annan told reporters before briefing the Security Council.

"We will continue our work," he said, pledging to keep United Nations staff in Iraq, although many are leaving temporarily while the world body is without a headquarters.

A cement truck bomb blew up U.N. headquarters in Baghdad on Tuesday, killing at least 20 people including the chief of mission, Sergio Vieira de Mello of Brazil. Also among the dead was Nadia Younes, his chief of staff and a veteran U.N. press officer. Dozens are still missing.

In a tribute to the dead in Baghdad, Annan told U.N. staff, "Many of us will remember the 19th of August 2003 as the darkest day in our lives at the United Nations."

"It feels like a nightmare, from which we are still hoping to wake. If only it were," he said.

SECURITY ISSUES

Security in Baghdad for U.N. staff haunted Annan. Some U.N. and U.S. officials were reported to have said that the world body was loathe to have its staff housed in a fortress and had rejected American offers for more security.

"I read that and I must say I was a bit surprised," Annan said on his return from a truncated vacation in Scandinavia.

"It is those with responsibility for security and law and order who have intelligence which determines what action was taken," he said. "I don't know if the United Nations did turn down an offer for protection. But if it did, it was not correct and they should not have been allowed to turn it down."

But despite his tough words, he refused to blame the United States.

"When you take on such a complex operation, one has to do planning ahead and I think there have been some wrong assumptions all along," Annan said. "The coalition has made some mistakes and maybe we have made some mistakes too."

The United Nations had provided security inside the compound but U.N. officials said the American military was to guard the streets around it.

EXPANDED U.N. MANDATE?

Discussions on the future role of the United Nations have centered on whether to leave Iraq or persevere in large numbers. British Foreign Secretary Jack Straw said he was coming to New York with proposals for a "strengthened" U.N. mandate, without defining what that was.

But diplomats said it was highly unlikely the United Nations would play a larger security role.

Annan said again he had no intention of sending in a U.N. peacekeeping force but the Security Council could authorize multinational troops under a U.N. mandate.

France has requested this but the implication is that such a force would not be under U.S. command, a concept both the United States and Britain so far have rejected.

"There are discussions going on," Annan said. "Whether there will be a second, broader mandate internationalizing the operations in Iraq is something that the next few months will make clear."

U.N. spokesman Fred Eckhard said Annan has to quickly assess whether "we are going full speed ahead or scaling back a bit."

Not leaving, U.N. officials said, does not necessarily mean fielding more staff. The United Nations has already suspended operations and told anyone who wanted to leave they could do so. So far only two have volunteered.

Many others have been urged to leave Iraq for a rest "just so they can calm themselves down and better prepare themselves to resume their task," Eckhard said.