Leaders meet Australian PM
( 2003-08-19 07:50) (China Daily)
Visiting Australian Prime Minister John Howard Monday praised China's efforts to ease the nuclear tension on the Korean Peninsula.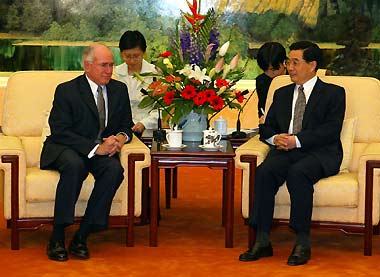 Chinese President Hu Jintao (right) holds talk with Australia Prime Minister John Howard in Beijing August 18, 2003. [newsphoto.com.cn]
"No country is more important than China," Howard said at a press conference after his talks with Chinese Premier Wen Jiabao.
China has more influence on the issue than any other country in the world and has played a wholly constructive and positive role, he said.
Howard said both Australia and China hope the issue can be resolved peacefully.
The Australian leader's visit comes a week before Beijing hosts a six-party forum on the matter, which has escalated since October.
This is Howard's fourth trip to China since becoming prime minister.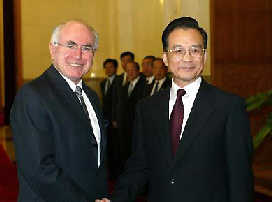 Chinese Premier Wen Jiabao meets Australia PM John Howard in Beijing August 18, 2003. [newsphoto.com.cn]

Apart from Wen, Howard also held separate talks with Central Military Commission Chairman Jiang Zemin, President Hu Jintao and National People's Congress (NPC) Standing Committee Chairman Wu Bangguo. All have pledged to deepen bilateral relations on the basis of mutual respect.
China and Australia, both important countries in the Asia-Pacific region, have made positive contributions to maintaining stability and promoting economic and social development in the region, Wen said.
He said China appreciates Australia's principle of mutual respect, frank acknowledgement of differences and firm advancement of common interests in developing relations.
China has fixed the policy of developing an overall co-operative relationship with Australia and is willing to work with it to push bilateral co-operation on the basis of mutual respect and reciprocity, Wen said.
Howard said Australia is confident of China's development prospects and his government will take measures to deepen its constructive relationship with China.
Bilateral trade between the nations exceeded US$10 billion last year and the two-way trade for the first half of 2003 saw a year-on-year increase of 31.9 per cent.
Wen expressed thanks for Australia's adherence to the one-China policy and its support for China in international organizations and on the Taiwan issue.
According to a Chinese Foreign Ministry spokeswoman, Hu echoed Wen by saying China is ready to work with Australia for the steady growth of full bilateral co-operative relations under the principles of mutual respect, equality and mutual benefit, and seeking common ground while reserving differences.
Howard was quoted as saying he appreciates China's constructive role in regional and international issues.
During his meeting with Howard, Jiang stressed the importance of dialogue and co-operation to peacefully resolve disputes.
It is conducive to world peace and development for countries to respect each other's history, culture and social systems and to learn from each other, he said.