Relief for indigent college students
( 2003-08-19 06:52) (China Daily)
With the new semester drawing near, the Ministry of Education is calling on universities and regional education departments to ensure that financially-challenged newcomers are able to attend classes.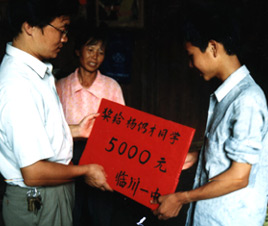 Yang Rencai, from Yinchuan County, East China's Jiangxi Province, receives 5000 yuan of financial aids as he is enrolled by the well-known Peking University. [newsphoto.com.cn]
Starting September 1, students across the country who pass the annual national college entrance exams will begin their campus life.
All universities must open a "green passage" to help accommodate poor students and instruct them in how to apply for loans to finish their studies, the ministry said in a circular.
Universities should mail the Pamphlet of Loaning Policy to each new student in August along with the college admission notice.
No universities can refuse cash-strapped students, the circular stated.
"The press can disclose universities that do not issue the pamphlets, that do not help students get loans, or regional banks that are not active in loaning to students,'' said ministry spokesman Wang Xuming.
The ministry didn't say how many newcomers or how many financially-challenged students will enter colleges and universities next month, but statistics indicate that over the past two years an average of 20 per cent of college students have difficulty paying tuition fees.
In China, higher education is carried out by collecting tuitions. Thus some students who come from rural, remote or poverty-stricken areas have a problem paying tuition because of regional economic disparities.
The loan system was piloted in 1999 among 136 universities in Beijing, Shanghai and six other cities that have the greatest number of institutions of higher learning.
The ministry reiterated that all universities should continue to implement the methods of tuition-reduction, giving subsidies, granting scholarships and offering work-for-study activities to poor students. These methods were practiced in late 1980s and have played a supplementary role in aiding the students.
Zhang Chunlei is one of the lucky few among tens of thousands of disadvantaged college students. A junior student majoring in bioscience at Beijing Normal University, Zhang received a four-year student loan when he entered the university in 2000.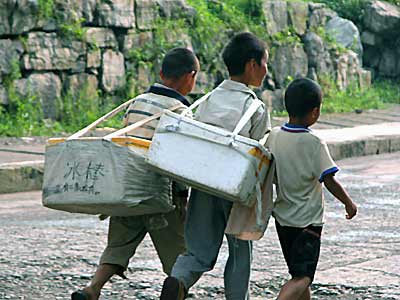 Children in a village in Southwest China's Guizhou sell icecream on street to collect money for their tuition. [newsphoto.com.cn]
"Without the student loan I would be shut out of the university because my poverty-stricken family cannot afford to pay the high tuition fees, which is 4,800 yuan (US$580) per year,'' Zhang said.
Born in a poor rural area plagued by protracted years of drought in Northeast China's Jilin Province, Zhang was happy to be the first university student in his village. Yet the transient joy gave way to worries about the high tuition fees listed on the university admission letter.
However, thanks to the application sheet included with his admission letter, Zhang easily got the loan despite the complicated procedure.
In order to lower the possibility of payment default, the credit approval criteria are high for some applicants.
"As a freshman it was hard to find warrantors, which is a pre-requisite in the application," Zhang said. "I'm very grateful for the support from the school and department authority who volunteered to be my warrantors.''