Experts see no strain on grain
( 2003-08-18 06:35) (China Daily)
China's huge stockpiles of grain and its growing production capacity mean that the country's food security is under no imminent threat, even though consumption has been outpacing production, officials and academics said Sunday.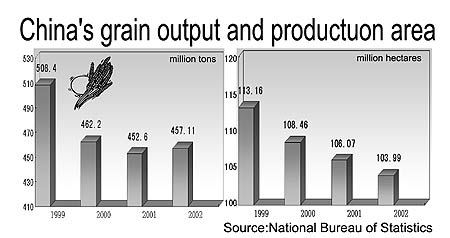 But the situation should never be neglected or allowed to evolve into a long-term trend, considering the country's shrinking area sown with grain crops and its increasing population, they said.
At a national agricultural conference held in Beijing the weekend before last, Minister of Agriculture Du Qinglin said China's grain consumption outpaced production in 2000, 2001 and 2002.
Citing national statistics and his ministry's projections, Du said China has been harvesting less grain since 1999, when it harvested 508 million tons.
Last year's grain production was up marginally over the previous year but was still behind consumption. Output is almost certain to plummet again this year due to further reductions in the area used to grow crops, Du said.
Zhu Changguo, vice-director of the State Bureau of Grain Reserves, said this year's grain production area has been cut by 3 per cent, as many farmers have switched to more profitable crops such as fruit and vegetables.
Coupled with natural disasters, this is expected to drive the country's grain output down by 1 per cent to 451 million tons this year.
In contrast, China's grain consumption is projected to grow by 1 per cent to 489 million tons this year, partly fuelled by the increasing demand for feed grain, Zhu said.
Balancing supply with demand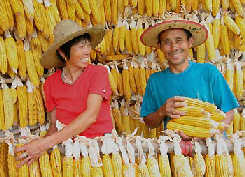 Two peasants smile as they dry their bumper corn harvest in the sun in the village of Xinqiao in Xinshao County, Central China's Hunan Province, in July. The central government has been much concerned of increasing farmers' income, which has only climbed slowly in recent years compared with sharp rise in urban areas. [newsphoto.com.cn]

Han Jun, a senior expert with the State Council Development Research Centre, said he believed the gap between grain output and consumption averaged 2.5 million to 3.5 million tons annually from 2000 to 2002.

However, just because farming areas and harvests diminished over three years does not mean that the country's food situation is at stake, Han said.

"Rather, the development indicates that China is proceeding from a period when grain supply excessively outstripped demand to a time when the two are heading towards a balance," said Han, director of the centre's Rural Economy Research Department.

In addition, the changes will by no means result in a grain shortage in the medium term, Han said.

"Due to its large stockpiles, China's overall grain supplies still outstrip domestic demand, despite the dents made in the reserves in recent years," Han said.

China has historically kept back stocks of grain. Although the current exact quantity is not yet available, insiders said a "huge amount" of grain stocks is currently held by both government bodies, commercial businesses and by farmers.

Furthermore, the country's comprehensive grain production capacity has remained intact thanks to the improving production conditions, Han said. It is now capable of yielding 500 million tons of grain a year.

Professor Ding Shengjun, a Beijing-based senior expert on food issues said China's self-sufficiency in grain has, since 1990, exceeded the 95 per cent line established as a policy marker in 1995 in the landmark "White Paper on the Grain Issue" issued by the State Council Information Office.

In the first half of this year, net exports of Chinese grain reached 7.8 million tons, which was 1.6 times the amount exported during the same period last year, according to the latest customs statistics.

Ups and downs `normal'

Ups and downs are normal in a country's grain production, said Ke Bingsheng, director of the Ministry of Agriculture's China Agricultural Research Centre.

For example, grain output and stockpiles of the world's leading grain producers -- including Australia, Canada and the United States -- were cut significantly last year, largely because of natural disasters.

However, the utmost attention should be given to preventing such downward fluctuations in grain output from becoming an established trend, Ke warned.

Buoyed by consecutive bumper harvests between 1995 and 1998 and grain surpluses in the years before, many places seemed to have become over-optimistic about their grain production, said Prof Ding.

The sluggish growth in grain prices has prompted some major grain-producing areas to turn transform blocks of arable land into woods, fish ponds and orchards, Ding said.

Both Ding and Ke agreed that the decreases in harvests and areas sown with grain crops should by no means be allowed to continue, especially against as demand for grain and other food products is expected to rise in the years ahead.

Over the next 20 years, China's net population is expected to increase by 10 million on average every year, while the proportion of urban land is expected to expand by up to 1 percentage point a year, according to the policy paper "The State of and the Outlook for China's Food Security,'' which China issued at last year's World Food Summit in the Italian capital Rome.

Furthermore, to improve the environment and achieve sustainable development, China is expected to change 14.7 million hectares of reclaimed arable land back to forest or grassland by 2006, Ding said. The further development of animal husbandry will also mean more feed grain will be needed, he added.

Minister: Invest in productiveness

Many government officials and experts seem to have reached a consensus that, instead of spending vast sums of money to bolster grain-storage programmes by building more grain depots and the like, China should try to "store grain on the land."

This means further substantially improving the grain-producing capacity of the country's cropland, especially in the major grain-producing areas, pointed out Minister Du at the national agricultural conference earlier this month.

Du called for redoubled efforts to protect arable land, improve land quality and rely on science and technology to attain higher yields and improve the quality of crop strains.

Prof Ding suggested that China should step up its building of an early alarm system for food production. This would include efforts to build a timely and accurate grain market pricing system while dynamically monitoring grain supply and demand.

Another important point is that access to the food needed for an active and healthy life should be guaranteed for the country's poverty-stricken rural and urban residents, Ding said.