China destroys 42 million pirated discs
( 2003-08-13 07:18) (China Daily)
A record 42 million smuggled and pirated discs were destroyed across the country Monday in the largest ever crackdown on illegal audio and video CDs and DVDs in China, according to sources with the General Administration of Customs.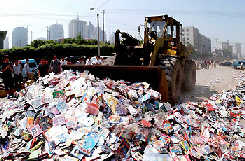 Huge haul of pirated or smuggled discs are destroyed in Guangdong. [Xinhua]
The city of Shanwei, the main site, Monday crushed 26 million illegal discs.
Shanwei and its neighbouring city of Shantou -- both in the southeast of South China's Guangdong Province and under the charge of the Shantou Customs -- have long been used by smugglers due to the long coastline of 298 metres.
The huge crackdown on illegal audiovisual products was jointly organized by the General Administration of Customs, the General Administration of Press and Publication and the National Office for Cracking Down on Pornography and Piracy.
Gui Xiaofeng, deputy director of the General Administration of Press and Publication, said: "It is the biggest of its kind in terms of the quantity destroyed in one place and the overall quantity destroyed across China."
All 42 million discs destroyed Monday had been confiscated during crackdowns on smuggling cases, starting in 2001.
Wang Xikai, of the National Office for Cracking Down on Pornography and Piracy, said: "The total number of the illegal discs confiscated since 2001 is greater (than 42 million) but the haul in some minor cases was destroyed immediately on the spot.''
Smugglers are now able to conceal more than 4 million discs on one ship, compared to no more than 1 million on one ship a decade ago.
In the latest major case, Guangdong police confiscated 4.77 million smuggled discs on March 2 this year, which was a record-breaking haul.
Pirated products have become a big problem for China, said Gui.
He said the smugglers not only breach China's copyright laws but also evade tax.
Severe punishment of lawbreakers should be combined with a policy of rewarding those who give useful information to the authorities with up to 300,000 yuan (US$36,200), Gui added.
Shen Rengan, deputy director of the National Copyright Administration, said piracy is an international issue.
Taking software piracy as an example, pirated software accounts for 24 per cent of all software in North America, 35 per cent in the western Europe, and 55 per cent in the Asia-Pacific area, he said.
David A. Reynolds, consul at the United States Consulate-General in Guangzhou, told China Daily that he is committed to co-operating with the Chinese Government on the piracy issue.
In the first seven months of this year, some 46.02 million illegal discs were confiscated nationwide in 76 major smuggling cases.