BBC takes stand at dead British scientist inquiry
( 2003-08-12 11:17) (Agencies)
The reporter who claimed British Prime Minister Tony Blair's government talked up the threat posed by Iraq's weaponry to justify war takes center stage on Tuesday at an inquiry into the death of a British scientist.
Andrew Gilligan, the BBC's defense correspondent, threw the government into an angry spin when he reported that a dossier it produced about Iraq's banned weapons was "sexed up" at the behest of Blair's communications chief, Alastair Campbell.
Government weapons expert David Kelly slashed his wrist last month after being named as the source for Gilligan's report.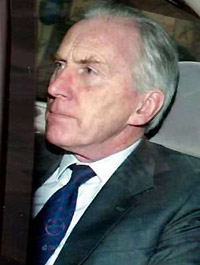 Britain's Lord Hutton arrives at the Royal Courts of Justice for the first day of his inquiry into the death of government weapons expert Dr David Kelly, in London, August 11, 2003. The inquiry into the events surrounding the death of Dr Kelly began taking evidence. [Reuters]

The opening day of senior judge Lord Hutton's inquiry into Kelly's death posed questions for both the government and the public broadcaster on Monday.

Martin Howard, deputy chief of intelligence at the Ministry of Defense, told the inquiry that two defense officials were unhappy with language used in the government dossier on Iraq's weapons, which was published in September last year.

Blair's public standing has withered as no weapons of mass destruction -- the reason he gave for going to war -- have been found in Iraq four months since Saddam Hussein was toppled.

Tim Collins, a senior member of the opposition Conservative Party, seized on concerns within intelligence circles about the dossier, which said Saddam could launch deadly weapons within 45 minutes.

"I think the government have got some very serious questions to be pondering today," he said.

A poll published on Sunday showed 41 percent of the public blamed the government for Kelly's death and 68 percent believed it was dishonest.

But Gilligan is sure to face serious questioning too.

Neither Howard nor any of the three other civil servants who testified on Monday supported the claim that Campbell, Blair's closest adviser, intervened to artificially inflate the dossier.

Parliament's Foreign Affairs Committee, which held its own investigation into the government's case for toppling Saddam, has accused Gilligan of sharply changing his testimony to them.

The government insists his story is not true.

Another BBC journalist, Susan Watts, who also talked to Kelly, will follow Gilligan into the spotlight at London's Royal Courts of Justice on Tuesday.