Poisoning victim remains critical
( 2003-08-12 08:29) (China Daily)
Two victims of the mustard-gas leak in Qiqihar, Northeast China's Heilongjiang Province, were in critical condition in a local hospital Monday night.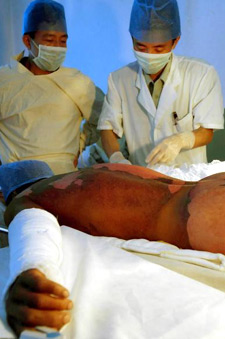 Poison victim Li Guizhen, 31, is in serious condition. [newsphoto.com.cn]
Another 33 people were also in hospital receiving treatment.
Poison victims Li Guizhen, 31, and Wang Cheng, 22, were in a serious condition, according to sources with the People's Liberation Army Hospital No 203.
Li, a waste collector from Central China's Henan Province, and Wang from Qiqihar were poisoned on Monday last week while they were transporting barrels containing the poisonous gas from the Beijiang Gardens residential area to a local recycling facility.
A doctor at the hospital, who refused to be named, told China Daily that, by 3 pm Monday, 31 men and four women had been admitted to the hospital but declined to say how many of them were in a serious condition.
The hospital has appealed to Chinese pharmaceutical plants for emergency aid materials to tide it over a shortage of medicine to counter infection and drugs for improving immunity.
The hospital has also set up 28 extra beds to accommodate the poisoned people, according to Xinhua News Agency.
Experts have confirmed that the five metal barrels of mustard gas contained in Qiqihar were chemical weapons left by Japanese troops during their invasion of China between 1937 and 1945. The barrels were discovered at a construction site and one of them was broken by workers at the site, causing an oil-like substance to leak out into the soil.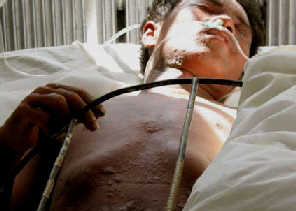 A victim lies on the bed at a hospital in Qiqihar, Heilongjiang Province. At least 36 Chinese people were injured by the chemical weapons left over by the Japanese army in World War II at a construction site in Qiqihar on August 4. [Xinhua]
Monday, visiting Foreign Minister Li Zhaoxing told his Japanese counterpart Yoriko Kawaguchi that the accident in Qiqihar has caused serious casualties to the Chinese.
He urged the Japanese side to attach high importance to the accident and shoulder up the responsibility.
Kawaguchi promised that her government will co-operate with the Chinese side in earnest for the proper handling of the aftermath.
Local anti-chemical warfare soldiers have disinfected all 11 polluted sites and sealed all the contaminated soil and transported it to a warehouse along with the barrels. The city lifted a quarantine on the 11 polluted sites yesterday morning.