Analysis: Japan must work harder at friendship
( 2003-08-08 13:35) (China Daily)
The Sino-Japanese relationship was expected to normalize after the two Asian countries signed a treaty for peace and friendship on August 12, 1978.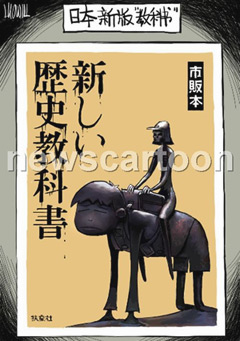 [newscartoon.com.cn/Sketched by China Daily Luo Jie]

However, such a relationship still needs continuous cultivation from peoples in both countries.

According to nationwide opinion polls conducted by the Chinese Academy of Social Sciences and Japan's Asahi Shimbun in August and September last year, 80 per cent of Chinese respondents chose "historical perceptions" as the principle problem for the two nations, while 40 per cent of Japanese respondents cited "the lack of mutual understanding" as well as "differences in political systems."

The two countries share a flimsy trust with each other due to Japan's long imperialist aggression to China in the past, as well as the half-century-long Cold War confrontation between the East and the West.

There has been a string of harsh words and irresponsible acts by a few politicians in Japan, whose sheer denials or distortions of history and facts about Japan's militaristic past have not only rubbed salt into its victimized neighbours' wounds, but also cast doubt on the sincerity of the remorse expressed by the Japanese Government towards past atrocities.

Only by facing its history squarely can Japan win the trust of its Asian neighbours.

The conclusion from the 1978 Treaty on Peace and Friendship in Beijing was a political reaffirmation of rapport between China and Japan, and a continuation and development of the 1972 Sino-Japanese Joint Statement following the normalization of their diplomatic ties in September that year.

Since the end of World War II, Japan has adhered to a policy of peace and development, achieving mammoth success.

At a conference held last year to celebrate the 30th anniversary of the normalization of Sino-Japanese diplomatic ties, former Chinese President Jiang Zemin said Japan's post-War decision to seek peaceful development, a decision based on lessons drawn from World War II, had led to the country's conspicuous growth and also created conditions for the rebuilding and further development of Sino-Japanese relations.

More than 50 years of peace have passed since World War II, helping Japan to become an economic power. Some Japanese scholars argue that perhaps the Japanese are now among those who really understand the meaning of peace in this world.

As a member in East Asia, it is in the interests of itself as well as the region that Japan continues with its pacifist policy.

China's rapid economic growth and Japan's economic recession have also caused a serious psychological imbalance among some Japanese, which has cultivated a "China threat" assertion. The reality is that Japan has benefited from its economic exchanges with China, and the strong growth momentum of China's economy will undoubtedly continue to benefit both.

At the first annual meeting of the Boao Forum for Asia held in April 2002 in Hainan, China, Japanese Prime Minister Junichiro Koizumi stated he did not think China's economic development was a threat to Japan and said the two countries could strengthen their mutually complementary relationship.

International relations are often a matter of perception. People do not have to oppose each other, even if they once did.

China has always adopted a long-term view to enrich and deepen the Sino-Japanese friendship and is willing to see Japan play a more constructive role in East Asia and the world.

In the early 1980s, China's leader Deng Xiaoping told then Japanese Prime Minister Zenko Suzuki that the Chinese Government attached great importance to developing the friendship between China and Japan forever, from generation to generation.

Past generations of both countries have done a lot to create and maintain rapport, now it is the younger generation's turn.

Ignorance is the source of prejudice and communication the cure.

We share a lot in common - there is no reason why we cannot get along well with each other.

Real peace and friendship between the two countries relies on efforts from both sides.

But Japan is not doing the serious soul-searching needed in relation to the war crimes it committed when invading its neighbours.

And even worse, politicians' visits to the Yasukuni Shrine which enshrines the memorial tablets of 14 Class-A war criminals put the brakes on their country's relationship with China and other victimized nations.

High-level strategic dialogue is imperative to promoting the Sino-Japanese relationship on a sustainable basis.

Co-operation between Beijing and Tokyo is indispensable to East Asian security and economic integration.

A better relationship requires farsightedness and efforts of the leaders and peoples of the two countries.

Taking history as a mirror and looking towards the future, it is our implicit hope that China and Japan will cherish their hard-won friendship and push forward their co-operative relations for the sake of their own national interests and the peace and prosperity of the region and the world.