Palestinian PM declares end to dispute with Arafat
( 2003-07-15 10:29) (Agencies)
Palestinian Prime Minister Mahmoud Abbas declared on Monday an end to a rift with President Yasser Arafat that had threatened US-led peace efforts.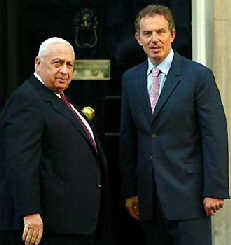 Britain's Prime Minister Tony Blair (R) greets Israeli Prime Minister Ariel Sharon on the steps of 10 Downing Street in London July 14, 2003. Britain rebuffed Sharon's appeal to cut ties with Yasser Arafat, who Israel has accused of undermining reformist Palestinian Prime Minister Mahmoud Abbas. [Reuters]

Abbas pledged his loyalty to Arafat as Israeli Prime Minister Ariel Sharon, visiting London, was being rebuffed by Britain in his efforts to increase the president's isolation.

"The disputes are over and things are all right," Abbas told reporters after meeting Arafat at the president's devastated headquarters in the West Bank city of Ramallah.

The two leaders had met to mend fences. Abbas threatened to quit as premier last week and resigned from a top policymaking committee headed by Arafat after some of his colleagues said he was being too soft in peacemaking with Israel.

As the rift widened with Arafat last week, some Palestinian officials said the president wanted to weaken Abbas. Western diplomats feared Arafat was trying to undermine a US-backed "road map" intended to end more than 33 months of violence.

Arafat made no public comments after the talks in Ramallah.

A senior Israeli official traveling with Sharon was unimpressed by Abbas's declaration.

"Declarations and announcements don't carry any weight with us -- only action does," the official said. He described Arafat as "the biggest obstacle" to progress in peacemaking.

Saeb Erekat, the former chief Palestinian negotiator at talks with Israel and a long-time ally of the president, said all problems between Abbas and Arafat had been resolved.

"We hope we can concentrate now on the real issues of reviving the peace process, implementing the road map and going ahead with the government's program," Erekat said.

SHARON HOLDS TALKS IN LONDON

The main Palestinian militant groups have declared a three-month truce, halting a suicide bombing campaign in the 33-month-old uprising for independence and lifting hopes the road map will take hold.

But peace efforts have been stalled by disagreement over how many Palestinian prisoners Israel should release. Some Palestinian politicians have criticized Abbas because he has not persuaded Israel to free hundreds, not thousands of prisoners.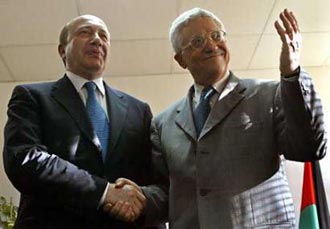 Palestinian Prime Minister Mahmoud Abbas (R) gestures while shaking hands with Russian Foreign Minister Igor Ivanov in the West Bank city of Ramallah July 13, 2003. Abbas called on Israel to let President Yasser Arafat travel freely, as Israeli premier Ariel Sharon lobbied for his further isolation. [Reuters]

The Palestinians consider the release of prisoners a crucial sign of goodwill and of Israel's commitment to the road map, but Israel says releasing militants who have killed Israelis could endanger the peace process rather than promote it.

Abbas, appointed by Arafat in April under US pressure, had shown loyalty to Arafat on Sunday by urging Israel to let the president travel freely shortly after Sharon called for his further isolation.

Sharon urged Britain to cut ties with Arafat during talks with British Foreign Secretary Jack Straw in London on Monday.

But a British official said Straw "made it clear that the British position, which is also that of the European Union, is that we would continue to have dealings with Arafat."

Sharon had dinner with Prime Minister Tony Blair later in the day. They were expected to discuss ways to shore up the road map, which sets out reciprocal steps to end the violence and to establish a Palestinian state alongside Israel in 2005.

Accusing Arafat of fomenting violence in a nearly three-year Palestinian uprising for independence, Israel has isolated him in his Ramallah headquarters, where most of the buildings have been destroyed by Israeli tanks and bulldozers.

Ramallah was under curfew on Monday as Israeli and Palestinian forces hunted for a missing Israeli taxi driver who Israel says may have been kidnapped.

A senior Palestinian security official said the taxi driver's disappearance did not appear to be connected with the Israeli-Palestinian conflict. "This Israeli was kidnapped over a criminal issue linked to car theft," he said.