China uses eighth flood diversion area in Huaihe River
( 2003-07-11 16:12) (Xinhua)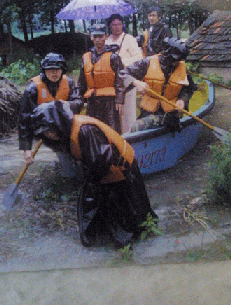 Chinese soldiers help local residents evacuate flooded areas in Xuyi in East China's Jiangsu Province in preparation for the flood diversion, July 10, 2003. [newsphoto.com.cn]

China opened sluice gates on the rain-swollen Huaihe River at 12:30 p.m. on Friday to divert the rising floodwater to the Qiujiahu flood diversion area.

The area, in Yingshang County of Anhui Province, east China, is the eighth such area to be used this year to alleviate flooding from the Huaihe River, which is experiencing the worst flooding since 1991.

The area covers 38.2 square kilometers, including 2,300 hectares of farmland, from which 33,000 residents have been evacuated. This is the 15th time the area has been used for flood diversion since the founding of the People's Republic of China in 1949.

Till now, floods along the Huaihe River Valley have killed 16 people and caused direct economic losses of 18.17 billion yuan (US$2.19 billion).

And with no sign of let-up in the torrential rain, tragedy struck in the southwest of the country with three workmen on the Sichuan-Tibet Highway confirmed dead and 13 missing following a mudslide.

The official disaster situation report issued by the Ministry of Civil Affairs said that the 47.518 million inhabitants, mainly in Anhui, Jiangsu and Henan provinces through which the Huaihe River runs, have been hit by floods. Some 2.312 million have been trapped by flood waters, while around 843,000 people have been evacuated to safe areas, said the report.

In Jiangsu province alone, 10 billion yuan (about 1.2 billion US dollars) was reported in direct losses, with 1.5 million hectares of cropland flattened, 110,000 rooms collapsed and 143,000 local people evacuated.

According to the Flood Control Headquaters in Jiangsu province, the flooding is becoming increasingly serious, as the water level in Hongze Lake, the country's fourth largest freshwater lake in east China, keeps rising.

By 9:00 a.m. Friday, the water level of Hongze Lake had reached 14.25 meters, the highest this year and 0.19 meters higher than that of 1991.

As the flood situation remains grave, 100,400 victimized locals have been evacuated in preparation for the diversion of floodwater from the lake, the headquarters noted.