Low-cost drugstore triggers new Shanghai drug war
( 2003-07-11 15:14) (Shanghai Star)
Located in the city's northern corner in Yangpu District, decorated with eye-catching bright yellow and red, Kaixinren Drugstore, the city's first low-cost drugstore has caused a major disturbance in the city's balanced and stable drug market since opening on May 31.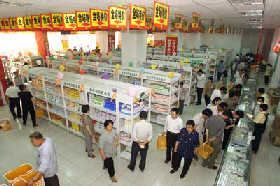 Most customers of Kaixinren Drugstore in Shanghai are middle-aged or senior citizens. [newsphoto.com.cn]

The location of the drugstore is not too good, with poor public transportation links meaning many customers have to travel there by bicycle. Neither the facilities nor service are superior to those of competitors. The chain only has four licensed pharmacies and 11 pharmacists, while the drugs provided are mostly produced outside Shanghai and most locals prefer locally made drugs.

None of this stops the consumers, most of whom are middle-aged or senior citizens. Despite the hot weather, hitting 36 degrees centigrade last Tuesday, lines of customers were waiting in the cashier queues.

The chain's key advantage lies in its far lower prices, which it says are to be discounted by about 45 per cent on average.

The private drugstore is jointly invested by the Jiangxi Kaixinren Drugstore Co Ltd, from East China's Jiangxi Province, and the Shanghai Difu Real Estate Co.

"Compared with the large local drugstores, we enjoy advantages such as superior flexibility, lower overheads and efficient staff," said Gu Junwen, assistant general manager.

The two-storey drugstore, covering 2,000 square metres, has about 3,000 kinds of drugs, from OTC cold drugs to prescribed medicines, healthcare foods and other products.

After one month, Kaixinren has sustained a high sales volume, which sources said was about 200,000 yuan (US$24,125) a day.

High-level support

Before Kaixinren's opening, almost all local drugstores and hospitals were selling drugs at the highest price set by the city's Price Bureau, which ensured them maximum profits.

Although some small privately-run drugstores have previously planned to win additional customers by cutting prices, they have been controlled by pressure from larger companies dominating the retailing market.

"The government welcomes and fully supports such drugstores, which are beneficial to the ordinary people," said Zheng Chunyuan from the Shanghai Drug Administration Bureau. "Besides inspecting the quality of drugs, we will also give them guidance for better service."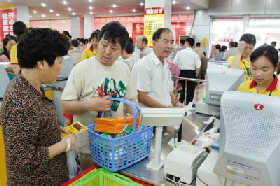 Customers wait in the cashier queues. [newsphoto.com.cn]
Reliable sources said a special meeting was held among relevant top officials several day ago to discuss the "Kaixinren Issue". During the meeting, the city's Mayor Han Zheng supported Kaixinren's activity.
Kaixinren has enjoyed preferential tax treatment for two years under the Yangpu District Municipal Government. "All the government departments gave us great support during the preparation and application process," said Gu.
The city's medical costs, especially for drug consumption, has remained high, becoming a heavy burden for the local medical insurance system.
Healthy people cannot easily understand the importance of cheap drugs. But for patients who take drugs for long periods, the potential saving can be very significant.
One Kaixinren customer bought a two-month supply of drugs for his old father, who was suffering from serious high blood pressure. "We can only spare about 20 yuan (US$2.41) every month for this medicine, but, you know, my father should take drugs every day," he said.
But some experts are cautious. "Drugs are special goods of critical importance to people's lives. They shouldn't be sold like ordinary goods in supermarkets," said Wang Dami, a senior consultant in the pharmaceutical industry.
"Do customers really need to buy baskets of drugs? All drugs have side effects and their use should be strictly under professional guidance from pharmacists."
Generally, people do not need to store many drugs at home. To do so risks wasting them if their expiration date passes.
Heavy blow
Compared with the crowds in Kaixinren, about 500 metres away a Huayuan Xiaoshijie Drugstore had very few customers in the store. "As the nearest pharmacy to Kaixinren, the impact on us has been calamitous. Our trading volume has dropped by at least half since Kaixinren opened," said the director, who asked not to be named.
To cope with the "side-effects" of Kaixinren, the Huayuan drugstore quickly reduced its prices for about 100 commonly used drugs by about 12 per cent.
A large-scale price cutting campaign by drugstores of the local "Green Alliance" chain, consisting of about 100 small private drugstores. Alliance claimed to cut prices from between 5-20 per cent since June 15.
The city's five big chain drugstores, Huashi, Fuxing, Guoda, Leiyunshang and Shanghai, had declared that they wouldn't join the price war. But since last week, Leiyunshang and Fuxing have lowered the prices of some drugs in their chain stores.
For the time being, Huashi, Shanghai's No. 1 and the Chinese mainland's No. 3 chain pharmacy, is still refusing to lower its prices.
In Shanghai, the annual retailing of drugs in pharmacies grosses 4 billion yuan (US$480 million), accounting for 20 per cent of legal drugs sales. "The major consumption is in hospitals. If this sector does not change, it is hard to see the drug market changing a lot," said one insider.
Another expert pointed out that Kaixinren could lower the price because it gets its drugs from first-level wholesale enterprises or pharmaceutical manufacturers directly.
This transparent and direct channel avoids the exorbitant mark-ups taking place at different levels of the supply chain, the main reason why drugs are normally so expensive when sold to customers.
Statistics show there are 16,500 drug wholesaling enterprises, with the ten biggest taking 20 per cent of the market. Small wholesale enterprises quite often buy drugs from larger ones and then sell them on to yet another wholesale enterprise.