UBS buying of A shares sends indices soaring
( 2003-07-11 07:29) (China Daily)
Chinese shares closed at their highest levels in nearly three weeks Thursday, spurred on by gains in the first four local firms to win foreign investment under the QFII scheme, brokers said.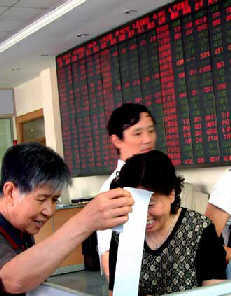 Traders at a Shanghai securities business outlet breathe a sigh of relief over rising indices Thursday on July 10, 2003 after a recent slump in prices.

The benchmark Shanghai composite index, grouping hard currency B shares open to foreigners and yuan-denominated A shares, finished 1.9 per cent higher at 1,531.927 points. The Shenzhen's gained 2.32 per cent to end at 3383.05 points.

UBS AG became the first foreign institution on Wednesday to buy into the country's primary US$500 billion yuan-denominated A share market as a Qualified Foreign Institutional Investor (QFII).

It ordered shares in telecoms gear maker ZTE Corp, top steelmaker Baoshan Iron & Steel, Shanghai Port Container and logistics provider Sinotrans Air on behalf of a client in Hong Kong.

China's stock market is dominated by retail investors who often trade on rumours or read the newspapers for tips. Local newspapers had not published the news until yesterday morning, so QFII did not spark an immediate rally, as some had expected.

All but Baosteel notched up 2003 highs yesterday, vastly outperforming the benchmark Shanghai composite index.

ZTE Corp was the best A-share performer in Shenzhen, rising 6.1 per cent to 19.59 yuan (US$2.4).

Shanghai Container, the second best performer, closed up 8.11 per cent at 13.87 yuan (US$1.7), Sinotrans rose 5.2 per cent to 21.62 yuan (US$2.6) while Baosteel gained 4 per cent to 5.5 yuan (66.5 US cents).

"Those stocks are leaders in each of their industries and the QFII investment made individual investors more aware of their strength,'' said Zhang Qi, an analyst at Haitong Securities.

"The PE ratios of the four are also relatively low compared with the broader market's 40 times,'' he said, noting the price of Baosteel's shares was about 16 times historical earnings.

Analysts expect indices to hover around current levels in the short run until clearer direction emerges.

"Without fresh leads, the overall market will remain range bound over the next few weeks,'' said Chen Renjin, an analyst at Huatai Securities.

But for the four picked up by UBS, analysts said, they have the potential to be bellwethers on China's markets in the near term.

The shares of the four have already outperformed the market this year, buoyed by strong earnings growth on the back of a booming economy.

For instance, Baosteel, whose shares have risen 33 per cent since the start of this year, posted a 67 per cent surge in net profits for 2002. Analyst expect its earnings per share to more than double in the first half of 2003.

"There've been few hot stocks recently, so the four still have potential for decent gains in the medium term,'' said analyst Da Yizhong at Guotai Jun'an Securities.

China's 1,200-name A-share market in Shanghai and Shenzhen is Asia's second largest, after Japan. Formerly, foreign buyers were limited to the tiny US$11 billion hard-currency B-share market.

While investors salivating over China's economic growth have long sought access to its markets, analysts note that A shares are much more expensive than companies in Hong Kong, which are priced at roughly 15 times earnings.

Chinese stocks are expensive because locals have few attractive alternatives for financial investment.

Experts predict QFII, with high barriers to entry and exit, will at best attract US$10 billion over two years.

Shanghai's yuan-denominated A-share index rose 1.91 per cent to 1,604.415 points, while its Shenzhen counterpart gained 1.66 per cent to 439.18.