Bus smash kills 21 in Hong Kong
( 2003-07-11 06:45) (China Daily)
At least 21 people died and 20 were injured Thursday in the worst road accident in Hong Kong's history.
A northbound double-decker bus careered off the Tuen Mun Road near Ting Kau Bridge at about 6:30 am, smashed through safety barriers and plunged 35 metres into an adjacent hill slope.
The 265M KMB (Kowloon Motor Bus) bus, carrying 40 passengers, was en route to Tin Shui Wai from Kwai Chung, when it was in collision with a container lorry.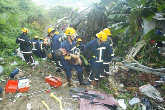 Rescue workers inspect the wreckage of a bus that careered off the Tuen Mun Road near Ting Kau Bridge Thursday in the worst road accident in Hong Kong's history.
The bus apparently landed on its front which was ripped open. Some passengers were thrown out of the vehicle, while most were trapped inside.
Nineteen passengers were found dead when 200 policemen, firemen and paramedics arrived.
One injured passenger and the bus driver were certified dead in hospital, while two men and a woman remain in critical condition.
Fourteen others, seven men and seven women, are in a serious condition, while the remaining three, including a nine-year-old girl, are reported to be stable.

Informed of the accident, central government leaders conveyed messages of condolences to the victims and their families through Gao Siren, director of the Liaison Office of the Central People's Government in the special administrative region. Central government will offer assistance in treating the injured if necessary.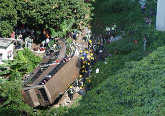 An aerial view of the wreckage that has left at least 21 dead and 20 injured.
Chief Executive Tung Chee-hwa visited the crash scene three hours after the accident. Expressing his deep shock and grief, he ordered all departments concerned to carry out exhaustive investigations into the tragedy and every effort to prevent similar accidents from occurring again.
"This has been a very devastating and painful accident for all of us,'' Tung told reporters. "The priority right now is to get on with the rescue work.''
The police and the bus company have formed their respective task forces to probe the accident.
The lorry driver, a 53-year-old man, was arrested after the accident for allegedly causing death by dangerous driving.
The 1.1-metre-high safety barriers at the crash scene were too low to hold back a 4.3-metre-high double-decker bus, Lo Kok-keung, a mechanical engineering academic from City University, said in an interview with CableTV in Hong Kong. He suggested they should be raised to 2 metres.
Countering these remarks at a press conference, Secretary for the Environment, Transport and Works Sarah Liao said the effectiveness of safety barriers has nothing to do with their height. She asserted that the barriers at the crash scene meet international standards.