Sanjiang's beauty earns plaudits
( 2003-07-04 09:26) (China Daily)
The natural scenes of the Sanjiang Region, also known as Three Parallel Rivers, in Southwest China's Yunnan Province, was listed by UNESCO as a World Heritage site on Wednesday.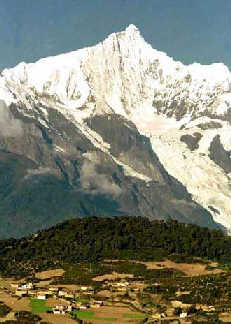 The Sanjiang region in Southwest China's Yunnan Province, which features the magnificent view of three giant rivers joining together, as well as various ethnic groups and rich biodiversity, has been listed by UNESCO as a World Heritage site July 2, 2003.[newsphoto.com.cn]

The scenic area's name is derived from the three rivers -- Nujiang, Jinshajiang and Lancangjiang -- which flow in parallel for more than 170 kilometres across north-western Yunnan Province, and cover a total area of 41,000 square kilometres.

The region features the magnificent view of the three giant rivers, as well the cultural interests of various ethnic groups in the area and rich biodiversity.

The ongoing 27th annual session of UNESCO (United Nations Educational, Scientific and Cultural Organization) in Paris will continue to evaluate bids for heritage site listings from around the world, including the Ming Tombs in Beijing and the Ming Xiao Imperial Tomb in East China's Nanjing.

If the bids are successful, the two tomb sites will be added to be parts of the Imperial Tomb series which were built in the Ming Dynasty (1368-1644) and the Qing Dynasty (1644-1911), which had already been listed by UNESCO.

The Imperial Tomb series in the list has included the Mingxiaoling Tomb, Qingdongling Tomb and Qingxiling Tomb.

The Sanjiang Region has become the 29th Chinese property to join the World Heritage List.

The region is the only Chinese candidate submitted to the 27th Session of the World Heritage Committee, which took place in Paris between June 29 and July 5.

The session will add a further 30 properties to the World Heritage List, from candidates submitted by UN member states.

The Sanjiang Region boasts rare high mountain landforms and outstanding biodiversity.

For example, the number of animal species in it accounts for more than 25 per cent of the country's total.

Meanwhile, it is also a place where 16 ethic groups are located and that pools many languages, religions, and ethic habits and cultures.

And although the region only has less than 0.4 per cent of the total territory of China, it has more than 20 per cent kinds of advanced plants of the country's total.

According to this session's decision, the 28th session will held next year in East China's Suzhou, a city with classical gardens which has also been listed as world heritage.