Broken Huangpu River floodwall endangers Shanghai
( 2003-07-04 06:48) (China Daily)
The broken floodwall by the Huangpu River is still not fully out of danger, given the combined effects of river tides and ongoing ground subsidence in the area, said city officials.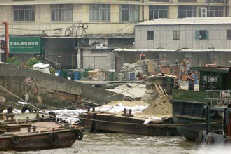 A dyke is broken by the Huangpu River in Shanghai on July 2, 2003. The accident was caused by earth subsidence blamed on work on nearby cross-river rail tunnels. The dyke began slowly sinking on Tuesday night and the wall cracked in the small hours of Wednesday because of the combined effects of subsidence and the rising night tide.[newsphoto.com.cn]

Located around the western side of the floodwall, which cracked on Wednesday in the aftermath of an earlier subsidence accident, a temporary sandbag wall as a secondary safeguard against flooding, tumbled at noon yesterday.

The river was being kept at bay as of Thursday afternoon by a sandbag wall five metres high and nearly 100 metres long, built at the outer eastern side of the floodwall to face the river water directly.

"We are continuing to fortify the key outer defence to get the emergency under control,'' said Su Ping, an official with the Shanghai Water Authority.

That is badly necessary due to the forecast later high night tide, he said, admitting that the ground subsidence in the area was not completely contained.

The city's flood season began on July 1.

Blamed on an accident concerning nearby cross-river rail tunnels still under construction, the earth subsidence began on Tuesday near the Zhongshan South Road, causing a building in that area to collapse and several others to become increasingly precarious, followed later by the cracking of the floodwall.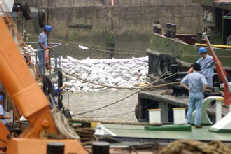 A sand bag dyke has been built as a temporary measure..[newsphoto.com.cn]
Sources said the ground under the floodwall has so far sunk about 10 metres.
What impact the accident will bring to the construction of the involved rail line M4, due to be put into operation in 2005, remains uncertain, as further investigation of the damaged tunnels is required, according to an official from the Shanghai Tunnel Construction Co. Ltd.
While cement was being poured into the ground near the collapsed building to stop any further subsidence, structurally unsound buildings in the area were still being demolished, causing the evacuation of over 100 people, who were temporarily housed in nearby hotels and schools.
Although police has blocked traffic from the accident site, life in neighbouring areas goes almost as normal.
"We don't feel scared by the accident as the government's work seems well organized,'' said a local woman, adding that the government's emergency measures -- including water and power cuts -- had not affected her life too much.