Beijing condemns Chen's push for referendum
( 2003-06-26 07:09) (China Daily)
Beijing Wednesday condemned the Taiwan authorities' attempts to conduct island-wide referenda on Taiwan's nuclear and health care issues, calling it a separatist move to create tensions across the Taiwan Straits.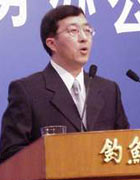 Li Weiyi, spokesman with the Taiwan Affairs Office of the State Council.[newsphoto.com.cn]

Li Weiyi, spokesman with the Taiwan Affairs Office of the State Council, said the mainland firmly opposes what it branded a "separatist move'' and one "that goes against the basic interests of the whole Chinese nation, including Taiwan compatriots.''

Addressing a regular press conference, Li said: "It is a creeping pro-independence step aimed at splitting Taiwan from the motherland..... for the Taiwan authorities to connive and support the attempt of a handful of separatist members to promote the referendum..

"We have long made it clear that we are consistently and firmly opposed to such separatist activities.''

His comments were in response toproposals by Taiwan's Democratic Progressive Party (DPP) administration to hold referenda.

Led by Chen Shui-bian, who doubles as chairman of the ruling party, the administration is considering holding a poll of the islands citizens to settle a long-standing debate over whether to continue, or halt, construction of a partially completed nuclear power plant.

The referendum is also targetted at voting on whether Taiwan should try to join the World Health Organization.

Although the referendum, at least on face value, is non-political and plays no part in cross-Straits relations, it is widely believed that the pro-independence DPP is taking advantage of the plan to pave the way for a referendum on whether to seek formal independence from China.

The ruling DPP enshrines Taiwan independence in its party manifest and favours a public referendum to decide the island's future.

In May 2000 when Chen assumed office, he pledged not to promote any referendum on changing the status quo on independence.

At yesterday's press conference, Li also referred to Beijing's appreciation of Washington's opposition to proposed referenda on the island concerning the nuclear plant and WHO issues.

He noted that the US opposition to any form of Taiwan independence is conducive to general Sino-US relations, stability in cross-Straits ties, as well as peace and security in the Asia-Pacific region.

Last week, Douglas Paal, director of the American Institute in Taiwan, the de facto US mission on the island in the absence of official ties, reportedly told Chen that the US is opposed to all forms of referenda in Taiwan.

On Monday, US State Department spokesman Philip T. Reeker went further and warned the island against making provocative moves.

The United States regularly urges Taiwan "to refrain from actions or statements which increases tension across the Straits,'' Reeker said.