The World Health Organization (WHO) yesterday removed Hong Kong from its list of SARS-infected areas after the city recorded zero infections for 20 consecutive days.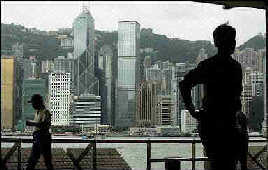 People walk in Tsim Sha Tsiu district with a view of Hong Kong's famous skyline. [Xinhua]

Chief Executive Tung Chee-hwa chose to announce the good news at Amoy Gardens, one of the local epicentres of the epidemic.

"We are happy about this," Tung said. "But every time I think about those who have passed away or have sacrificed themselves as a result of SARS, I, like all of us, feel a great deal of sorrow.

"Those who are living here at Amoy Gardens were particularly badly affected, so I decided to come here to make the announcement to say that we care."

The Hong Kong government wasted no time in announcing a tourism revival campaign yesterday.

At the launch ceremony, Financial Secretary Antony Leung said it was a day of thanksgiving, remembrance and looking ahead.

"Now that we have been taken off the list, there is no doubt that our next major challenge is to revitalize our economy and restore business activity to pre-SARS levels."

Selina Chow, Hong Kong Tourism Board chairperson, unveiled a bundle of major comeback events that will be launched from mid-July until March 2004.

Leading the way will be a "Welcome Month," extending from mid-July to mid-September and featuring a wide range of special travel offers and activities.

It will be launched on July 13 to coincide with the opening of the three-day Boao Forum for Asia and the World Tourism Organization conference on "Revitalizing Asian Tourism."