UK panel rips Blair on Iraqi weapons
( 2003-06-11 16:21) (Agencies)
An influential committee of lawmakers criticized Prime Minister Tony Blair's government Tuesday for publishing a dossier on Iraq's weapons program without first clearing its contents with British intelligence services.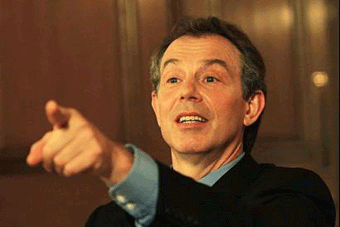 Britain's Prime Minister Tony Blair points during a joint press conference with Chancellor of the Exchequer Gordon Brown, at 10 Downing Street in London, Tuesday June 10, 2003, on Britain not entering Europe's Euro monetary zone at the present time. [AP]

The dossier, which set out evidence about Saddam Hussein's alleged chemical and biological weapons programs, was published early this year. It included material copied from an American student's thesis which was posted on the Internet, causing embarrassment for the government.

The Parliamentary Intelligence and Security Committee, which oversees the work of Britain's intelligence agencies, said in its annual report that the document had not been endorsed by intelligence chiefs before it was published. It was titled "Iraq: Its Infrastructure of Concealment, Deception and Intimidation."

"We have been assured that systems have now been put in place to ensure that this cannot happen again," the report said.

American and British troops in Iraq have failed to find weapons of mass destruction, after visiting more than 230 suspected sites. The lack of hard evidence has put huge pressure on Washington and London since Saddam's alleged possession of banned weapons was a main US and British justification for invading Iraq.

Another dossier, published in September 2002, also prompted a series of damaging headlines for the British government, amid accusations that it exaggerated the threat posed by Saddam.

That dossier claimed Iraq could fire chemical or biological weapons within 45 minutes of Saddam giving an order to do so. Two parliamentary committees will investigate claims that Blair's office redrafted the document to emphasize the 45 minute readiness, even though intelligence officials allegedly believed the information was unreliable.

Blair has denied that allegation and insisted it was approved.

"The fact is there is not a shred of evidence, absolutely no evidence at all, that we have doctored or manipulated intelligence. That would be absolutely gross if we did so. We have not done so," Blair told a news conference Tuesday.

The committee's annual report backed Blair up.

"The agencies were fully consulted in the production of the (September) dossier, which was assembled by the assessments staff, endorsed by the JIC and issued by the prime minister," it said.

However, the report added it was "impossible at the present moment to make any definitive statements about the role of intelligence and the situation in Iraq. We will report when our inquiries have been completed."