Family planning law takes effect
( 2002-09-02 08:44 ) (8 )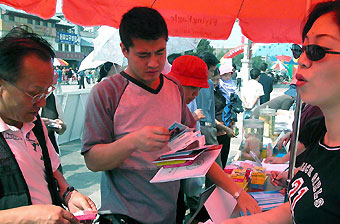 Several residents in Kunming, capital of Southwest China's Yunnan Province, browse publications introducing China's first law on family planning - the National Law on Population and Family Planning - that came into effect on September 1.The Chinese Government made family planning a State policy in 1982 to strike a decent balance between population and economic growth.[Xinhua]
China's first Population and Family Planning Law, which formally came into effect Sunday, has been applauded as humanitarian as it gives prominence to the rights and interests of citizens.
"As China's first basic law concerning population and family planning, it focuses on the all-around development of human beings," said Zhang Weiqing, director of the State Family Planning Commission (SFPC).
With the legislation's aim of maintaining harmony between population and socio-economic development as well as realizing sustainable development, the new law was regarded as a milestone in the country's family planning policy, Zhang added.
The new law stipulated that family planning should include increasing women's education and employment opportunities, protecting their health and raising their status, he said.
The law particularly underlines preferential favor for households abiding by the state family planning policies. It also strictly prohibits the abuse of authority, illegal administration,coercive imperatives and other practices infringing on the interests of citizens during family planning.
Since the state law only makes stipulations regarding China's overall situation, the drafting of specific administrative and service systems and measures at grass-roots level is delegated to local legislative departments.
With a population of 90 million, central China's Henan province,the country's most populous, has made a second amendment to the local population and family planning regulations according to the state law.
"While fixing the current population policies, the new legislation emphasizes protecting the legal rights and interests of citizens as well as strengthening related services," said one of the officials amending the regulations.
He added that the new regulations were more endowed with humanitarian connotations.
According to the regulations, if a couple marries late before having a child, the wife's maternity leave can be prolonged for another three months and the husband may also have a one-month nursing vacation.
In rural areas, contracted farmlands allocated to parents with only one child will be doubled. Rural households complying with the family planning policies can also get preferential treatment in the distribution of collective income and welfare.
In addition, local rules stress that governmental departments should provide technical and health-care services regarding child bearing, birth control and sterility with the operation paid for by local governments.
Areas all over the country are stepping up the formulation or amendment of local population and family planning regulations, in which strict, compelling words like "forbidden" and "must" almost disappear or appear much less.
Many provinces are simplifying the complex application procedures for having a child and legally allowing parents in certain special circumstances to have more than one child.
Southwest China's Yunnan province, for instance, has worked outnew legislation to increase health protection subsidies for only children, offering free health examinations if they are in rural families and other aid.
ˇˇNew regulations in southern Guangdong Province echo the prohibition of identifying a fetus' gender and selective artificial pregnancy without proper medical need, which is distinctly defined in the state law.
Guangdong regulations specify that people who induce abortion without official approval will not be permitted to reproduce again,effectively curbing abortions just because parents want a boy.
China has made substantial achievements in controlling excessive population growth through the adjustment of local policies and regulations. It is estimated the country would have 300 million more people if calculated at the growth rate of three decades ago.