Julia Roberts, Benjamin Bratt split
( 2001-06-29 09:21 ) (7 )

Julia Roberts split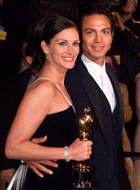 Julia Roberts holds her Best Actress Oscar at the 73rd annual Academy Awards as she and boyfriend Benjamin Bratt arrive at the Vanity Fair post-Academy Awards party at Mortons in Los Angeles in this March 25, 2001 file photo. [Reuters]




Oscar-winning actress Julia Roberts and beau Benjamin Bratt have ended their four-year relationship, his publicist said on Thursday, confirming a New York tabloid report that they had broken up.

"Yes, that's true I can confirm that," Bratt's publicist Kelly Bush told Reuters, adding, "Benjamin has no comment."

Roberts' publicist declined to comment.

Bratt, 37, who starred on TV's "Law & Order," and is currently shooting the feature film "Abandon" with Katie Holmes, reportedly initiated the breakup after he was unable to get Roberts to commit to marriage, according to an article in Thursday's New York Daily News.

It was unclear when the couple broke up, a source said.

The pair smiled through the Academy Awards ceremony together last March when Roberts, 33, won a best actress Oscar for her performance in "Erin Brockovich."

Roberts' love life has long been tabloid fodder. She was engaged to actor Kiefer Sutherland in 1991 but broke off the engagement shortly before their planned wedding.

In 1993 she married country singer Lyle Lovett but the couple divorced less than two years later. Roberts has also been romantically linked to Liam Neeson, Daniel Day-Lewis, Matthew Perry and Jason Patric.

After Roberts met Bratt in 1997 they quickly became an item and she told the Daily News: "We're drunk with joy 24 hours out of the day. ... We're sickening, we're ecstatically happy. I'm happier than I've ever been in my life."