China Daily

HK edition

Business Weekly

Shanghai Star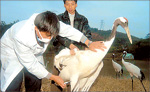 A red-headed crane is vaccinated at Haicang Zoo in Xiamen, Fujian Province in East China.
Nation steps up poultry inspections
With the human death toll from the bird flu outbreak rising to 15 in neighbouring countries yesterday, China is scrambling to stop the spread of avian influenza by stepping up culling of poultry, market inspections and vehicle checks.
Hu: Key role for developing world
ALGIERS: China is a "reliable friend" to developing countries, said President Hu Jintao.
Time for lanterns and more changes, possibly
Today, the 15th day of the Chinese lunar calendar, is the traditional Lantern Festival.
Presidents agree on 'new chapter' in ties
ALGIERS: President Hu Jintao suggested boosting "strategic co-operation" with Algeria and turning over a "new chapter" in Sino-Algerian relations.
Human trials for SARS vaccine
Chinese scientists will begin selecting volunteers for clinical tests of a SARS vaccine.