All-star cast assembled for Guo Degang's directorial debut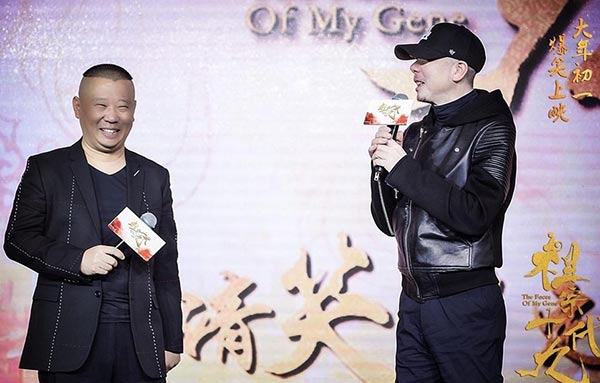 Guo Degang (left), a comedian-turned director, promote his first feature The Face of My Gene, with the awards-winning helmer Feng Xiaogang. [Photo provided to China Daily]
A dream cast might not be available to most newbie directors, but cross-talk comedian Guo Degang has assembled a cast of up to 33 stars for his directorial debut, The Face of Gene.
The feature-length comedy, set to open on the first day of Spring Festival in 2018, which falls on Feb 16, stars the action giant behind the Wolf Warrior franchise, Wu Jing; Taiwan supermodel-actress Lin Chi-ling; actor Wu Xiubo who is famous for Finding Mr Right; and the pop idol Jing Boran, known for the Monster Hunt series.
The cast also includes Wang Baoqiang, Li Chen, Du Chun, Huang Lei, Yu Qian, Sun Bei, Ma Su and Da Peng.
The movie is about a gifted yet unsuccessful writer's time-travel stories. With a mysterious booklet recording his family's history, he travels back in time to meet a dozen of his ancestors to seek their formula for success.
The writer is played by Yue Yunpeng, Guo's most popular disciple and also the star comedian behind a series of comedy hits, such as Revenge for Love.
Guo says he hopes to make a movie that brings laughter to audiences of all ages.
Director Feng Xiaogang showed up at the promotional event to support the movie last week.
"Guo's cross-talk show tickets sold for up to 10,000 yuan ($1,500) by scalpers during the last Spring Festival holiday. It will be much cheaper and easier to see his performance for two hours by spending just 9.9 yuan (the limited price for online marketing)," Feng teased.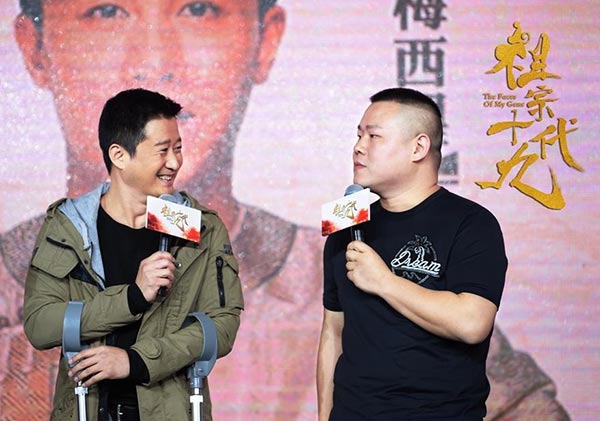 Action star Wu Jing (left) and comedian Yue Yunpeng co-star the upcoming comedy film The Face of My Gene. [Photo provided to China Daily]