3-D shows the way of heritage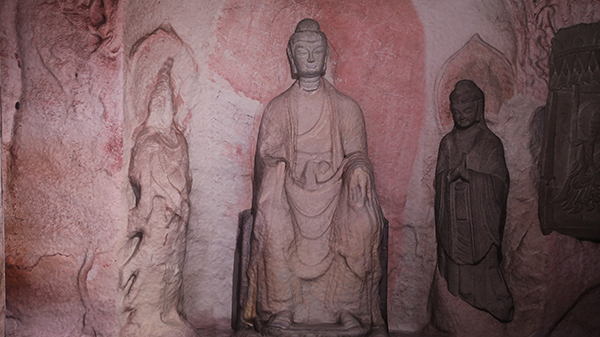 Buddha statues are displayed at a Beijing show via 3-D and virtual reality technologies. [Photo provided to China Daily]
The Tianlongshan Caves, nestled on a mountain on the outskirts of Taiyuan, the provincial capital, have about 500 sculptures.
The show displays photos and videos with full Buddha sculptures. For instance, the missing head from a Buddha statue that should have been in Cave No 14, built during the Tang Dynasty (618-907), but is now in the British Museum was scanned and then matched with a 3-D model of the full body in the cave to complete the statue digitally.
"Many of the Buddha heads are outside China-about 150 fragmented sculptures have been located with the aide of CAEA (Chicago University)," says Yu Hao, director of the management office of the Tianlongshan Caves.
He says he has yet to travel to see the missing sculptures displayed in museums, including the Metropolitan Museum of Art in New York, the Tokyo National Museum and the British Museum.
Katherine Tsiang, associate director of CAEA, says since 2013, her team has scanned 103 fragmented sculptures-heads, hands and relief carvings-scattered in the United States, Europe and Japan. But new ones keep emerging.
"We have to continue working on finding them because there're always new ones," she says.
Lin Wei-cheng, who is in charge of communication with museums on the CAEA team, says about 130 pieces were located in 31 places around the world, with Harvard Art Museums displaying the biggest collection with more than 20.
Lin says some art dealers and museums were willing to let the team scan such Buddha sculptures, while others required time to get permission.