Strings that sing Mongolian music's magical melodies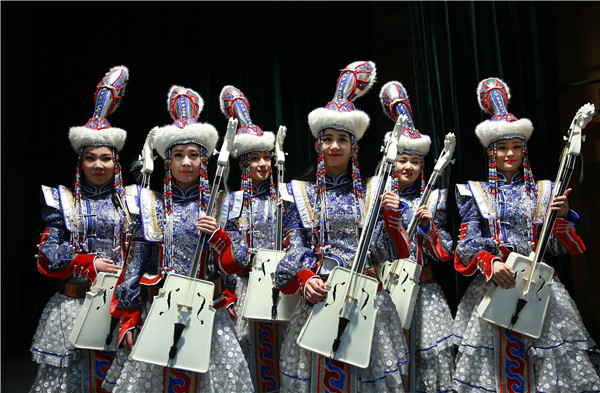 Xiangdan and her ensemble, Dongfang Shenjun, have reached out to global audiences with their modern presentations of Mongolian folk tunes. [Photo by Zou Hong/China Daily]
Two dozen young performers in colorful robes sweep bows across traditional Mongolian morin khuur (horse-head fiddles) at the Minzu University of China's theater.
Their nomadic melodies float through the air like the breezes across the grasslands.
It is their last show before the Chinese Lunar New Year.
The morin khuur ensemble Dongfang Shenjun (Oriental Steed) is known for original compositions and new presentations of old folk tunes from the Inner Mongolia autonomous region, from where its members hail. Their average age is 20.
The ensemble is the brainchild of 45-year-old singer Xiangdan, from Inner Mongolia's Bayannur city.
It breaks from the convention of performing while seated. Instead, its members stand and move around the stage, as if performing a choreographed dance, as they play their instruments.
"We not only give old melodies new sounds but also create a visual spectacle onstage," says Xiangdan.
"To see these people clad in traditional Mongolian attire while clutching morin khuur is a spectacle in itself-even without the music."
She recalls spending her childhood in different cities since her father was in the military.
But her love of the morin khuur was constant throughout her formative years.
"Ethnic Mongolians love morin khuur because its sound reminds us of home," she says.
Xiangdan learned to sing from a young age and started performing as a soprano with Harbin Opera Theater at 18.
She left the opera group to found the ensemble in 2005.