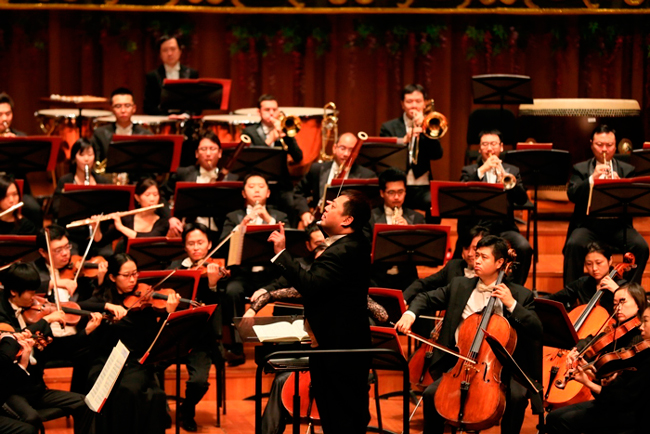 [Photo/CCTV.com]
Peter Seabourne's Concerto for French Horn demands a virtuoso performance, and that is what Czech soloist Ondrej Vrabec brought for the Asian premiere—in concert with Chinese conductor Lyu Jia.
Vrabec is an old friend of China, having made his debut in the country some 15 years ago, and he is an established conductor. But this is his first collaboration with Lyu, artistic director of the National Center for the Performing Arts.
"It's a very enjoyable cooperation for me. First of all, maestro Lyu Jia is a very experienced conductor. He has got so much experience from opera. You can see he really gives a lot of freedom on stage. And second, the orchestra is very young and is very dynamic. They are doing their best to make the performance as perfect as possible," Vrabec said.
"Ondrej Vrabec is also a conductor. The cooperation is very nice. In this program, he plays two different concertos. One is modern, the newly composed [piece] of Peter Seabourne, which is very difficult. From his conducting experience, he knows how to watch the conductor. He knows the orchestra very well. He has also conducted lots of modern pieces," Lyu said.
At just 26, Lyu became the first Asian to conduct an Italian opera house—the Treiste Opera in Florence—after winning first prize in the Antonio Pedrotti Competition in 1990.
Having notched up 2,000 concerts and operas in Europe and North America, Lyu started conducting the NCPA orchestra in 2008 and has been artistic director of the theater since 2012.